---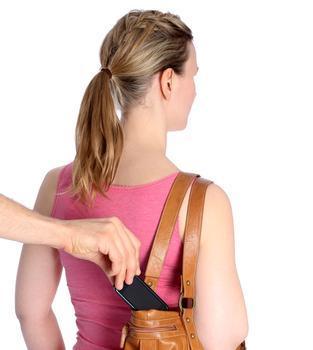 One of the fastest growing personal property crimes in the U.S. is cellphone and smartphone theft. It should come as no surprise. These devices can often cost more than a laptop computer if you pay the unsubsidized price. They can also contain valuable personal information.
That creates a sizable profit margin for crooks on the black market. And it seems to be an easy thing to steal.
"I was at the mall recently and I saw so many people walking around with iPhones sticking out of their back pocket," said Shane Lyberger, founder of MyStolenPhone.com, an online database where consumers can report stolen devices. "You know how easy it would be for a thief to pull that phone and run? No one seems to have a sense of security about their cellphones anymore."
Swiped in mid conversation
Even people who think they are being careful with their phones can fall victim. There have been reports of people having their phones snatched in mid conversation, as they were holding the device to their ear.
There are a number of different databases, operated by law enforcement and the wireless carriers, that contain information about stolen devices. Lyberger says his is the largest public database of stolen phones.
Individuals manually submit ESN, MEID, or IMEI numbers that can then be seen by thousands of businesses and other users who access the database when selling mobile devices. That number is an identifying number unique to each phone. It can be found on a sticker on the back of the device or sometimes inside the battery compartment. Each cellphone owner should write down their number and put it in a safe place.
Some law enforcement officials say the carriers -- like AT&T and Verizon -- could do a lot more to combat smartphone theft. New York Attorney General Eric Schneiderman recently demanded to know why carriers refused to activate a "kill switch" that Samsung had devised for its phones. It would have turned stolen phones into unusable bricks.
Victims should always report the crime
In the event the phone is stolen, the device can essentially be deactivated, so that it won't work on a wireless network. But the victim has to report it and Lyberger says that doesn't always happen.
"A lot of people don't realize that if your phone is stolen you can report it and your carrier can keep it from being used," he said.
If your cellphone is lost or stolen, your first step is to report it to your wireless carrier. It will immediately deactivate your account.
However, sensitive information will remain on your phone. If you have the ability to do a remote "wipe" of the device's memory, you should do so. Next, Lyberger strongly recommends filing a police report, even though they aren't likely to go out and make an immediate arrest.
What the police can do
"If your police or sheriff's office or state police has the ability to list it to the Nation Crime Information Center (NCIC), that's even better," Lyberger said. It's in another database that's going to help recover that device or prevent that device from being used."
The industry itself has been active recently on the stolen phone front. CTIA – The Wireless Association, has implemented new databases to prevent reactivation of stolen smartphones by U.S. carriers.
The purpose in trying to prevent stolen phones from being reused is to try to reduce the market for stolen phones. If there is less of a market, phones should become less desirable targets of thieves. But Lyberger is realistic about ever reaching that goal.
Global market
"Unfortunately a lot of phones stolen in the United States are sold elsewhere," he said. "It's still going to be a huge problem."
But every once in a while, there are small victories. Lyberger said he received an email not long ago from an individual who was prepared to purchase a smartphone on eBay.
Before making the purchase, however, Lyberger said the potential buyer checked the device on MyStolenPhone.com and discovered it was stolen.
---