---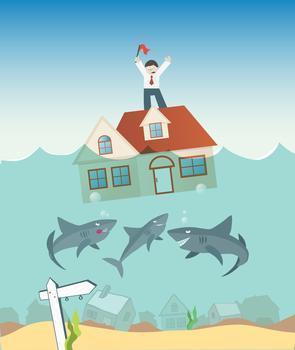 Rising home prices in the second half of 2016 have helped more homeowners get back to a positive equity situation, according to a report from Black Knight Financial Services.
As of the end of November, the company says one million homeowners who were previously underwater now owe less on their mortgages than their homes are worth. Other homeowners who were barely above the break-even point in the past now have tappable equity.
"The negative equity situation has improved substantially since the height of the Great Recession," said Black Knight vice-president Ben Graboske. "There are now just 2.2 million homeowners left in negative equity positions, a full one million fewer than at the start of 2016."
Since 2009, underwater homeowners have been a huge drag on the housing market. Owing more than their homes are worth, they have been unable to sell and move up. As interest rates fell to record lows, they were unable to refinance their loans to lower their payments.
More of a localized problem
Black Knight says roughly 30% of all homeowners were underwater on their mortgages at the end of 2010. Today, the company says the problem is more localized. Some housing markets have bounced back faster than others.
While the majority of states have negative equity rates below the national average of 4.4%, there are pockets where home values are not back to their bubble highs. Black Knight singles out Nevada, Missouri, and New Jersey as all having negative equity rates more than twice the national average.
In Atlantic City, 23% of homeowners with a mortgage are still underwater. In St. Louis, the number is 20%. And it's not the most expensive homes that have been hit the hardest. Lower-priced homes in the bottom 20% of their communities' price range are nine times more likely to be underwater than those in the top 20%.
Bright spot
Graboske says the bright spot in the report is that a growing number of borrowers are now not only back above water, but have tappable equity in their homes, meaning they have current combined loan-to-value (CLTV) ratios of less than 80%.
He estimates there are about 39 million formerly underwater homeowners who now have $4.6 trillion in available, lendable equity. That, he says, can not only boost the housing market but also the overall economy.
---