---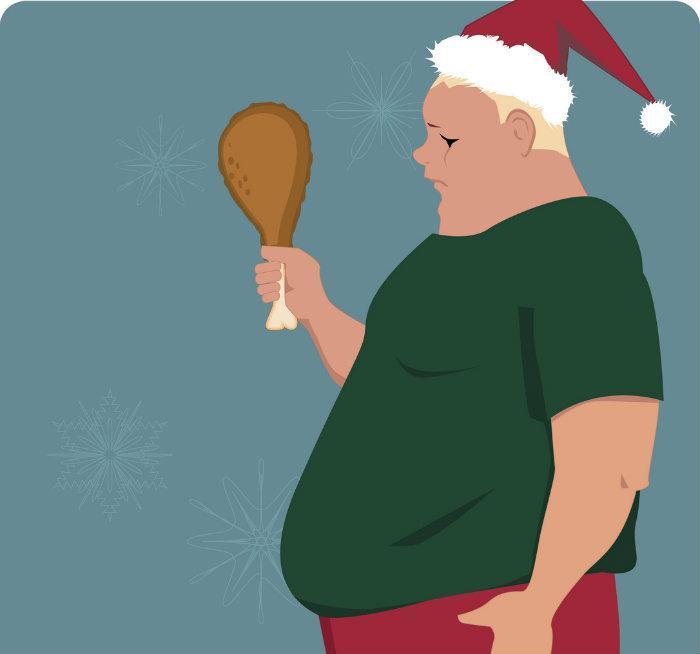 For the first time in at least 25 years, fewer than half of Americans say they want to lose weight, according to Gallup. During the period from 2001 to 2008, nearly 60% of us wanted to shed excess poundage, Gallup's annual Health and Healthcare poll found.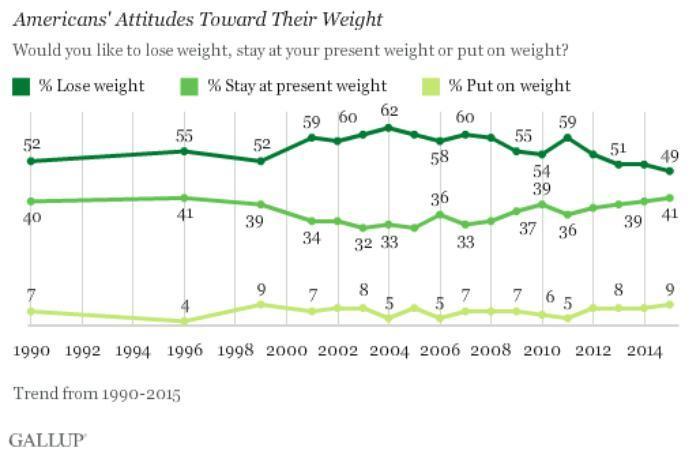 Not only that, but an increasing percentage of us, currently 41%, say our present weight is just fine, thanks. This may sound like wishful thinking, but, as part of the Gallup-Healthways Well-Being Index, Gallup calculates Americans' body mass index scores based on respondents' self-reported height and weight. The obesity rate ticked up to 27.7% in 2014, the highest rate recorded since Gallup and Healthways began tracking it in 2008. 
In addition to being less likely to say they want to lose weight in recent years, fewer Americans say they are making a concerted effort to do so. Less than a quarter of adults (24%) report they are "seriously trying to lose weight." This is the lowest reading since 2002, though it is similar to the 25% to 30% of adults who said they were "seriously" trying from 2003 through 2014.
When asked to describe their weight, 37% say they are "very" or "somewhat overweight." This has generally declined since 1990, when about half of adults (48%) said they were overweight. Meanwhile, 5% say they are "very" or "somewhat underweight."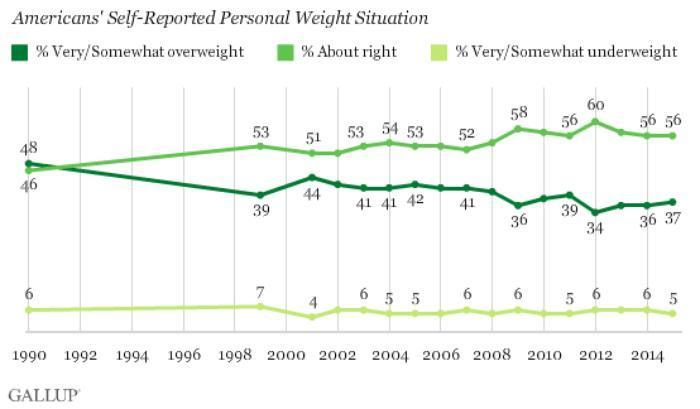 Americans, however, are most likely to describe their weight as "about right" (56%) -- consistent with readings since 2009. From 1990 to 2008, this figure was in a lower range, from 46% to 54%.
The overwhelming majority of those who say they are overweight also report wanting to lose weight. Over the past decade, between 90% and 96% of those who describe themselves as overweight have said they wanted to drop some pounds. This suggests that the decline in the percentage of Americans wanting to lose weight is more attributable to fewer people saying they are overweight than to overweight people being less likely to say they want to lose weight.
---