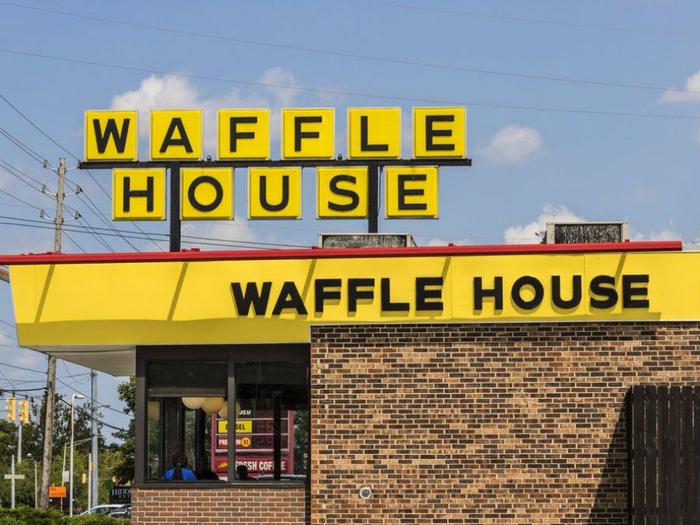 With Hurricane Florence barreling towards the east coast, the Waffle House is one of the countless businesses and agencies keeping a pulse on the storm.
The breakfast chain is open 24 hours a day all year long, and it is known to be open during natural disasters. Because the restaurant has an active storm center monitor, federal officials use the Waffle House as a way to measure the severity of hurricanes, tornadoes, and other local storms after they hit.
Should a Waffle House close its doors -- or even just limit its menu -- because of weather conditions, federal regulators know that particular area was hit hard. Because of the company's close watch on natural disasters, the Federal Emergency Management Agency (FEMA) dubbed the term the "Waffle House Index" as a means of determining the effect of a storm on an area.
"The Waffle House test just doesn't tell us how quickly a business might rebound -- it also tells how the larger community is faring," FEMA said in a 2011 blog post. "The sooner restaurants, grocery and corner stores, or banks can reopen, the sooner local economies will start generating revenue again -- signaling a strong recovery for a community."
The Waffle House game plan
In order to remain open during dangerous conditions, Waffle House plans carefully -- and in advance -- for each storm. The restaurant has plenty of contingency plans, and even "jump teams" that involve store managers working shifts for stranded employees.
Each restaurant also has a "Waffle House storm playbook" with a play-by-play of what to do should the electricity or running water go out mid-storm. FEMA has since developed a color-coded system that is dependent on Waffle House's status.
"They are open most of the time," former FEMA administrator Craig Fugate said in a 2016 interview with NPR. "And that was the index. If a Waffle House is closed because there's a disaster, it's bad. We call it red. If they're open but have a limited menu, that's yellow. If they're green, we're good, keep going. You haven't found the bad stuff yet."  
Waffle House spokesman Pat Warner said Fugate came up with the idea during the 2004 hurricane season.
"If we are open quickly after a storm, that means the community is coming back and folks are out, we are getting back to that sense of normalcy," Warner said. "After a storm, they're really looking to us to be there to help them out because they're used to us being there the rest of the year."