---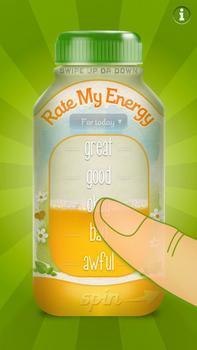 Why does it seem that many of us struggle with our energy levels, even though we claim to get enough rest, eat the right foods and get enough exercise?
Some may say today's individual is busier than ever, and with jobs becoming more complex, forcing people to work longer hours and newly created devices making it easier to bring work home, getting any downtime or just having time to do absolutely nothing seems harder and harder to do these days.
And what course of action do a lot of consumers take to get their energy back?
To answer that question, just take a look at your neighborhood grocery store or pop into your local corner market and you'll see just how many energy drinks there are on the market.
From 5-hour Energy, to Red Bull, from Monster Energy to Rockstar Energy Drink, the shelves are full of products claiming to boost our energy level.
Track your energy level
Well, a new app created by the company Mindbloom sets out to change that approach, through its new mobile device app called JUICE, that allows people to track their energy level and get tips on how to increase their energy naturally.
JUICE "takes a fun, simple approach to helping the average person become aware of the daily habits that zap their energy, while serving up relevant suggestions and resources from top-tier experts on ways to improve those behaviors," says Chris Hewett, founder of the tech health company Mindbloom, in an interview with ConsumerAffairs.
"JUICE is not an app for the ultra-marathoner, it's an app for the average person who lacks energy but doesn't know why and doesn't have the time to begin to learn how to address the issue. With JUICE, users can quickly and easily record and reflect on their daily behaviors in the areas of nutrition, sleep, exercise, mood, life balance and stress and track them against their daily energy level," he said.
What's also cool about the app, says Hewett, is that it's fun to use, and instead of the app having a boring and scientific approach to gathering the needed information from you, it actually comes across like a game that will hopefully keep people permanently engaged.
"The application uses playful interaction to make the experience fun, such as offering a lighthearted visual sliding scale to rate that day's nutrition behaviors from 'awful' (pizza, beer and a cupcake) to 'great' (salmon, vegetables and a glass of water)," says Hewett.
After the seven days, JUICE gives an energy report that sums up all of the information users gave during the seven-day period, then the app gives advice on the things you need to change, so you can maintain a proper energy level.
Customized tips
And the app doesn't provide general input either, says Hewett, it actually gives customized tips that are tailored for your specific circumstance.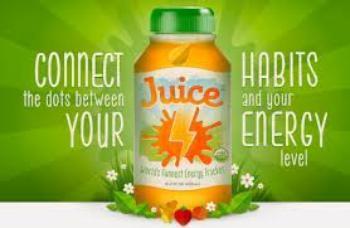 "JUICE users also receive daily tips from Mindbloom's partner network of highly respected health experts and authors," says Hewett. "The tips are personalized and relevant based on the users input, and are designed to encourage users to improve choices and behaviors that are problematic."
Hewett also said that user feedback for the app has been encouraging.
"We launched the app just over two months ago and already have 70,000 downloads. Overall people have been ranking their energy as 'ok' across the board, so we'd like to see that go up and believe our expert tips have already started to make an impact, especially with people who are connecting expert tips with their New Year's resolutions."
And with the large number of downloads so far, Hewett says he can't wait to see what the app goes from here.
"Nutrition and exercise have been the lowest ranked areas so far, although we also saw improvement in January over December. It's amazing to see the app making an impact on people's lives so early after launch and we can't wait to see even more results," he says.
Negative behavior
See, many of us want to feel better during our daily routine, but don't know how to go about it. Also, when we do decide to do something, we may work on only fixing one area that needs improving, like going to bed a little earlier.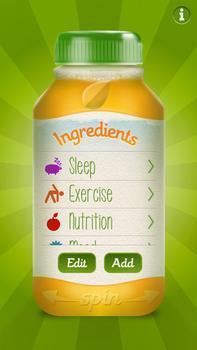 And of course, correcting any negative behavior is great, but to make a complete change for the better and have an increased energy level, you'll have to fix all of your problem areas , which is exactly what the app does," says Hewett.
"Most people don't even realize that certain energy-zapping behaviors are taking place as often as they are," he said.
"Often you need a mental map to know where you're going or recognize that you're lost. Tracking allows you to see how behaviors are impacting other areas of your life. With JUICE, people get an easy navigational tool for checking in with themselves when energy levels are an issue and they get to see a map of their habits in a fun and non-invasive way."
"It's a wonderful opportunity to identify areas where potential small steps could make a huge difference in enabling positive behaviors that lead to more energy. Used effectively, JUICE is the perfect gateway app to better health, well-being and happiness," says Hewett.
He also says that simply grabbing an energy drink is nothing but a temporary fix.
"While an afternoon energy drink or caffeine-loaded beverage might be part of someone's daily repertoire to boost their energy, it's a Band-Aid fix that doesn't address why that person might be in the midst of an energy crisis brought on by potential unhealthy behaviors."
"With JUICE, people get to the bottom of identifying what is zapping their energy so they can start taking actions to get their natural energy to an optimal level."
Hewett says what also sets JUICE apart from other health apps are the tips you get from experts to help keep your energy level up.
"The integration of top industry experts is important," he says.
Juice can be downloaded for free in Apple's iTunes store.
---