---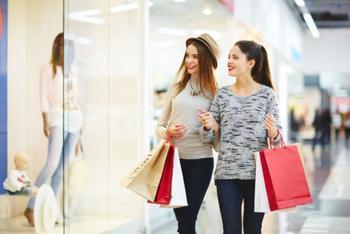 Studies show that women often identify stress as their number one health concern. For this reason, it may not surprise you to learn that womens' shopping priorities are now primarily geared toward products and experiences that can increase their level of happiness.
In a new report, WSL retail explains that "feel good" experiences -- whether derived from where they shop or what they purchase -- are highly valued by shoppers. The research firm points to this as the reason why retailers are seeing disappointing numbers despite an improving economy.
Some retailers, however, seem to be getting it right. Amazon, Publix, Costco, Sephora, and Victoria's Secret are a few chains that are succeeding in giving women the enjoyable shopping experience they're after, according to WSL.
Fiscal responsibility
The results of a survey showed that four-in-ten women (an increase since 2014) now report feeling more financially secure, which seems to be something they aren't taking for granted.
According to WSL, the role of buying and consumption in Americans' lives has been permanently changed -- meaning, no more breaking the bank on new clothes or expensive beauty products.
Instead, the discretionary dollars of many consumers are being thrown at debt and savings. Fifty-five percent of female shoppers said paying off debt was their number one priority, while 48% percent said cushioning a savings account was most important.
So how has this changed the way women shop? According to WSL, women's spending priorities can now be summed up by something they call "the trinity of happiness."
Responsible. Enjoyable. Easier.
In addition to allocating more money for debt and savings, shoppers have begun to focus their spending behaviors on products that can help them live an easier, more enjoyable life.
What makes for a more enjoyable life? For many shoppers, it's spending more time with friends and family, staying healthy, and helping the environment via recycling and saving energy.
To make life easier, women are simplifying the way they care for themselves and their home -- this includes simpler meals and simpler beauty routines. They're also spending less time shopping in general, which could be another reason for retailers' dismal sales numbers. Half of shoppers said their version of a simpler life involves ditching the department stores, presumably in favor of spending more time on activities they find enjoyable.
---