---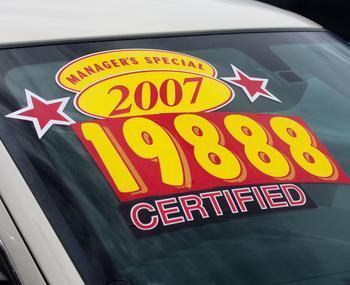 Buying a used car used to be basically a shot in the dark. You might get lucky. Or not. But things have improved a bit since 1985, when the Federal Trade Commission (FTC) adopted rules requiring a "Buyers Guide" to be posted on every used car.
The Buyers Guide is a window sticker similar to the one that is plastered on new-car windows. It contains basic information about the car and, significantly, whether or not it is covered by a warranty.
The FTC now wants to toughen the rules a bit -- thought not too much -- to provide a bit more warranty information on the stickers. But it stopped short of requiring dealers to provide a copy of the warranty.
Too much trouble
Why? Dealers convinced the commission it would be too much trouble despite consumer groups' contention that the terms of the warranty are an essential piece of information.
"We've showed them that the rule that's in place is effective at policing the market, and it is doing so," Bailey Wood, a spokesman for the National Automobile Dealers Association, told industry publication Automotive News.
The Buyers Guide currently discloses whether the dealer offers a warranty and, if so, its terms and conditions, including the duration of the coverage, the percentage of total repair costs the dealer will pay, and which vehicle systems the warranty covers. In states that do not permit sales of used cars "as is," or without warranties, dealers must display an alternative version of the Buyers Guide.
But if the car is still covered by a manufacturer's warranty or a third-party warranty, it will be up to the consumer to track down that information.
Since dealers -- who are presumably experts -- insisted the information is not that easy to obtain, one might ask why it will be any easier for consumers to find it.
Instead of providing copies of the warranty or details about it, the new rule would require placing boxes on the back of the Buyers Guide where dealers will have the option to indicate whether (1) the manufacturer's warranty still applies; (2) the manufacturer's used vehicle warranty, such as a manufacturer's certified used car warranty, applies; or (3) some other used vehicle warranty applies
Other changes include:
adding a statement to the Buyers Guide encouraging consumers to seek vehicle history information and directing consumers to an FTC website for more information about vehicle histories;
adding a statement in Spanish to the Buyers Guide directing Spanish-speaking consumers to ask for a copy in Spanish, if they desire;
adding catalytic converters and airbags to the List of Systems on the back of the Buyers Guide.
---