---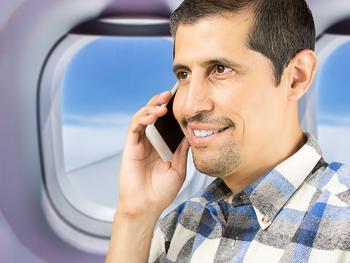 Should phone calls be allowed on airliners? Federal rules currently prohibit it, but that could change under a proposal from the U.S. Transportation Department, which is suggesting that airlines should have the right to decide what their policy is, as long as they notify passengers well in advance.
"Consumers deserve to have clear and accurate information about whether an airline permits voice calls before they purchase a ticket and board the aircraft," said Secretary of Transportation Anthony Foxx.  "Today's proposal will ensure that air travelers are not unwillingly exposed to voice calls, as many of them are troubled over the idea of passengers talking on cell phones in flight."
Not everyone agrees, including the Association of Flight Attendants-CWA. President Sara Nelson said anything short of a total ban is "reckless" saying that allowing calls "threatens aviation security and increases the likelihood of conflict in the skies."
The airline trade association, Airlines for America, said it doesn't think the government should get involved and spokesmen for various airlines were lukewarm to the whole idea and said they have no plans to allow in-flight calls.
Jurisidiction issues
It gets a little confusing because there's more than one agency potentially involved in setting rules. Currently, the Federal Communications Commission's rules prohibit the use of cellphone frequencies to make voice calls on commercail flights.
However, the FCC rules don't cover Wi-Fi, Skype, and other methods consumers could use to make calls. But most domestic airlines prohibit voice calls and the Transportation Department (DOT), which includes the Federal Aviation Administration, is largely silent on the matter.
But with increasing bandwidth becoming available as airlines upgrade their systems, there is growing pressure from consumers and others who think calls should be permitted.
While not coming down firmly on either side of the issue, Foxx's agency is proposing that airlines could decide what to do, while notifying consumers at every step of the decision-making process. 
DOT said it believes that allowing voice calls, without providing adequate notice, would be an unfair and deceptive practice. As technologies advance, the cost of making voice calls may decrease and the quality of voice call service may increase, leading to a higher prevalence of voice calls and a greater risk of passenger harm, or at least annoyance.
The proposed rule requires airlines to notify passengers if voice calls are allowed on a flight but does not require any notification if calls are not allowed.
Have an opinion? You can go to www.regulations.gov, docket number DOT-OST-2014-0002, and submit your comments.
Thanks
Keep an eye on your inbox, the lastest consumer news is on it's way!
Unsubscribe easily whenever you want
---