---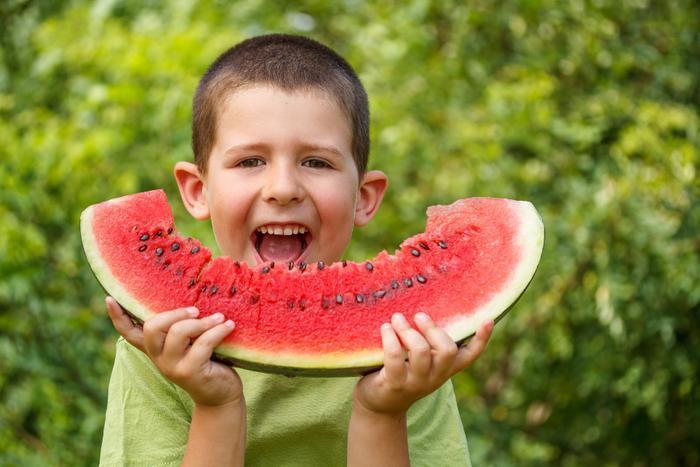 Some people spend all their time inveighing against the ever-encroaching federal government getting its nose into every aspect of modern life. Somedays it's pretty hard to argue with that notion.
Take the case of the rogue watermelons. The feds are concerned because watermelons don't come with nutrition labels and are working on rules that would correct this oversight.
Perhaps genetic modification will someday enable watermelons to produce their own nutrition labels but for now, it looks like we'll be stuck with the stick-on variety.
Blame Obamacare
As far as we've been able to determine, it's only sliced watermelons that are currently being considered as outlaws. Apparently, a provision in the Affordable Care Act -- yes, that's right, Obamacare -- stipulates that as soon as a watermelon is sliced open, it becomes a potential restaurant serving and must be labeled with calorie information.
The Food and Drug Administration (FDA) is, with a straight face, working on a rule to implement this provision, according to information harvested by the Food Marketing Institute (FMI), a food industry trade group.
Besides watermelons bound for restaurants, melons arrayed in supermarkets may also need labels, as the act of slicing them open makes them "food on display," which would require calorie information "directly affixed to or adjacent to the item, not just on a menu or menu board, which is the required method for restaurant food," as FMI puts it.
This might all seem rather absurd but it gets worse as one considers the practicality of the matter. After all, the caloric content of a given slice of watermelon varies with a number of factors -- like, uh, weight and degree of ripeness. Estimating could spell trouble. Stores that get it wrong could be subject to a penalty.
Exploratory slicing
Jennifer Hatcher, who is FMI's Senior Vice President, Government and Public Affairs and a self-described watermelon fan, says that leaving watermelons unmolested doesn't do the trick either.
"The first thing a grocery store produce manager does to expose his customers to the two best attributes of that watermelon – color and smell – is to cut it open," she notes, a practice that would be imperiled by the FDA's rules.
"Both our senses and the way food retailers do business are being threatened," Hatcher laments. And, just like those obsessed with ongoing federal power grabs, she warns that government's overreach won't stop with wastermelons.
Birthday cakes displayed in bakery departments and olives left exposed in olive bars could be next, she warns. Much as Paul Revere did in his day, Hatcher is sounding the alarm and rounding up supermarket managers and, presumably, watermelon farmers to descend on Washington seeking redress.
Maybe they'll throw watermelons into the Potomac?
---