---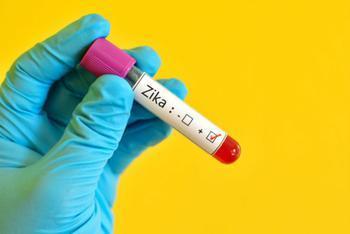 There is more than one way to get the Zika virus. A mosquito carrying the disease can bite you. You can have sexual contact with someone who has the virus. But you can also get it from a blood transfusion, if someone with the virus has donated the blood.
For that reason, the Food and Drug Administration (FDA) is now recommending that all donated whole blood and its components be tested for the virus. Dr. Peter Marks, director of the FDA's Center for Biologics Evaluation and Research, says that policy will ensure the safety of the blood supply.
This is a change from the agency's initial guidance, issued in February, that said screening was needed only in areas with active Zika virus transmission. The new guidance expands that to all states and U.S. territories.
Considering the evidence
The FDA said it took the step after considering all the available scientific evidence and consulting with other public health agencies. It said testing of donated blood in Florida and Puerto Rico has been effective in keeping the virus out of the blood supply there.
The Zika virus is not especially dangerous to the people getting it. Its symptoms are relatively mild, and similar to those of other diseases spread by mosquitoes. The danger of the Zika virus is its potential effect on the children born to women who have it.
Since early this year, scientists have linked the Zika virus to a birth defect known as microcephaly, a condition which severely affects brain development. Women who are pregnant, or may become pregnant, should therefore be extremely cautious.
That's why, the FDA says, that it is extending its blood-testing guidance to the entire U.S.
Additional precautionary measures
"As new scientific and epidemiological information regarding Zika virus has become available, it's clear that additional precautionary measures are necessary," said Dr. Luciana Borio, the FDA's acting chief scientist. "We are issuing revised guidance for immediate implementation in order to help maintain the safety of the U.S. blood supply."
While the virus is mostly spread by the Aedes mosquito, sexual contact with an infected partner can also spread it. What makes the virus particularly dangerous is that four out of five people never develop symptoms, so a partner might not know that he or she has it.
When symptoms do appear, they are usually fever, joint pain, a rash, and red, irritated eyes.
---