---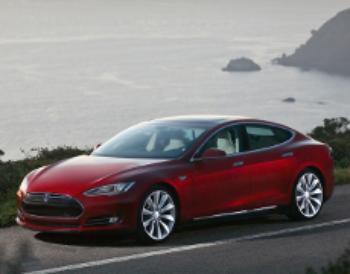 Tesla says its Model S plug-in hybrid is the "safest car in the world." But the feds would like to know why three of them have caught fire in five weeks. The National Highway Traffic Safety Administration (NHTSA) says it is investigating the risk posed when the car's undercarriage strikes an object.
The fires have all followed highway mishaps in which the battery compartment was punctured.
"The Office of Defects Investigation (ODI) is aware of two incidents occurring on US public highways in which the subject vehicles caught fire after an undercarriage strike with metallic roadway debris. The resulting impact damage to the propulsion battery tray (baseplate) initiated thermal runaway," NHTSA said in a posting on its website. The agency noted that in each case, the car's warning system alerted the driver to the problem before the fires began.
"In each incident, the vehicle's battery monitoring system provided escalating visible and audible warnings, allowing the driver to execute a controlled stop and exit the vehicle before the battery emitted smoke and fire. Based on these incidents, NHTSA is opening this preliminary evaluation to examine the potential risks associated with undercarriage strikes on model year 2013 Tesla Model S vehicle."
Such preliminary evaluations are very common and occur almost daily. A small percentage are escalated into full-scale investigations and an even smaller percentage result in recalls.
Aggressive stance
Nevertheless, Tesla CEO Elon Musk has been taking an aggressive stance towards any suggestion that the cars could have even the slightest flaw, first denying the cars posed a greater fire risk than others and noting that gasoline-powered cars can also catch fire. Next, Musk said there was "definitely not going to be a recall." Then he claimed that he had asked for the NHTSA investigation, something NHTSA Administrator David Stickland said was news to him, according to Automotive News.
Strickland said he was "not aware of" Tesla asking for the investigation and said NHTSA had informed Tesla on Friday that it was opening the probe.
In a blog post yesterday, Musk continued to insist that the Tesla was no more fire-prone -- and perhaps less so -- than gas-powered cars.
Less fire-prone
"Since the Model S went into production last year, there have been more than a quarter million gasoline car fires in the United States alone, resulting in over 400 deaths and approximately 1,200 serious injuries (extrapolating 2012 NFPA data)," he wrote. "However, the three Model S fires, which only occurred after very high-speed collisions and caused no serious injuries or deaths, received more national headlines than all 250,000+ gasoline fires combined."
Noting that there are 19,000 Model S vehicles on the road today, Musk said the known incidents involving fire amount to one fire per 6,333 cars, compared with one fire per 1,350 gasoline-powered cars.
"By this metric, you are more than four and a half times more likely to experience a fire in a gasoline car than a Model S! Considering the odds in the absolute, you are more likely to be struck by lightning in your lifetime than experience even a non-injurious fire in a Tesla," Musk said.
Blames the press
Musk, who has actively sought and reveled in, media coverage of his expensive battery-powered sports car, now complains about press coverage of the fires.
"The media coverage of Model S fires vs. gasoline car fires is disproportionate by several orders of magnitude, despite the latter actually being far more deadly," he complained.
Musk was not complaining in May when Consumer Reports magazine gave the Tesla Model S the highest score it's ever awarded a car -- 99 out of 100.
"The Tesla Model S takes everything you know about cars and stands it on its head," the magazine said. "It's a very agile, super-quick electric luxury sedan (with a hatchback!) that seats seven and gets the equivalent of 84 mpg."
The CR rating got lots of attention, especially given that the $90,000 Tesla will at best go 225 miles without pausing for five hours or more to recharge.
Sales have been as blistering as the car's 0-60 mph performance and its stock price has been even faster off the line. The company's stock price when the Consumer Reports review was released was $66.81. Today it stands at $126, down from a high of $194 but still up 282% for the year.
---