---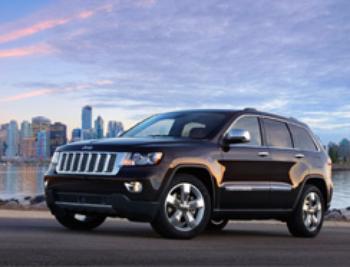 Safety regulators have opened an investigation into reports that the ceilings can catch fire in 2012 Jeep Grand Cherokee SUVs. The National Highway Traffic Safety Administration probe covers an estimated 146,000 SUVs.
The agency said it has received three reports froom consumers who said the headliner caught fire near the passenger-side sun visor. The investigation could eventually lead to a recall.
"The customers reported a burning odor and visible smoke coming from the headliner while the vehicle was being driven. This was followed by flames from the headliner itself," NHTSA said. "Customers lowered the windows in an effort to clear the smoke but this increased the fire's intensity. All three vehicles had to be extinguished with a fire extinguisher or by the fire department as they continued to burn after the vehicle was turned off."
Burning visor fell off
In one case, the sunroof shattered from the heat and in another the fire spread to the passenger seat when the burning sun visor fell off.
"My son was driving my 2012 Jeep Grand Cherokee," said one consumer who complained to NHTSA. "When he was close to my home, he noticed an acrid smell and saw a small amount of smoke coming from the area around the control panel, near the rear view mirror, on the ceiling."
The Jeep was shut down immediately but by the time the fire department arrived, the car had burst into flames, the complaint states.
There have been no reports of injuries, unlike the many deaths attributed to older Jeep Grand Cherokees that critics say have a tendency to burst into flames after rear-end accidents because the gas tank is mounted behind the rear axle in an unprotected position. The exact fatality count is in dispute.
"The known toll now stands at 185 fatal fire crashes with 270 deaths and numerous burn injuries," Clarence Ditlow of the Center for Auto Safety said in a 2011 letter to Chrysler Group LLC Chairman Sergio Marchionne.
---