---
That great deal you got on a Detroit Red Wings sweater may not have been such a bargain after all.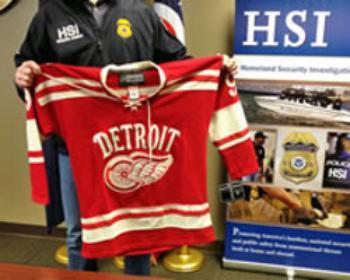 U.S. Immigration and Customs Enforcement's (ICE) Homeland Security Investigations (HSI) seized $723,377 in fake sports merchandise after a three-month enforcement initiative targeting counterfeit National Hockey League gear and other sportswear leading up to the 2014 NHL Winter Classic events.
Working with U.S. Customs and Border Protection (CBP), HSI special agents seized 6,121 items of counterfeit NHL gear and other sportswear, $32,550.38 of which was seized in metro-Detroit. The effort concluded after the New Years Day NHL Winter Classic outdoor game between the Red Wings and the Toronto Maple Leafs in Ann Arbor.
The operation, dubbed Operation Team Player, resulted in seizures of jerseys, hats, T-shirts and other souvenirs. Although most of the seized items were fake NHL merchandise, agents also seized other counterfeit professional sports merchandise. The seizures were part of a crackdown on intellectual property rights (IPR) violations leading up to the NHL Winter Classic events. Operation Team Player is an effort by the HSI-led IPR Center that targets counterfeit sports merchandise from all of the major sports leagues.
Sharp rise in scams
"Around every major sports event in this country, we always see a sharp spike in counterfeit merchandise as criminal groups try to exploit the enthusiasm of fans," said Marlon Miller, special agent in charge of HSI Detroit. "They use inferior materials to pump out look-alikes that do not benefit the teams, the players or the associations that have trademarked these goods. Counterfeiting hurts the consumer, it hurts business and it costs American jobs."
"The interagency collaboration for the 2014 NHL Winter Classic truly exemplified our ability to protect the American consumer," said Christopher Perry, director of field operations for CBP. "Our partnership with HSI and other agencies gives us pride in being part of the team that stops counterfeit and pirated goods that steal revenue from legitimate businesses and shortchange buyers who think they're getting the real deal."
"The NHL very much appreciates the efforts of HSI, and CBP to protect NHL fans from being victimized by counterfeiters and to ensure that legitimate businesses playing by the rules will not be harmed by these illicit activities," said Tom Prochnow, group vice president, legal and business affairs for the NHL.
---