---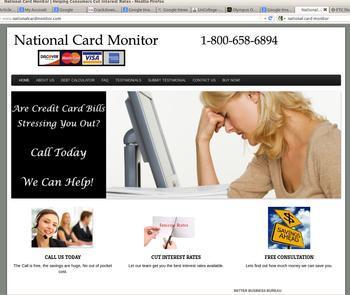 The Internet is crawling with companies that claim they can get you a low-interest credit card, even if your credit is on a par with Greece. All it takes, supposedly, is a few hundred dollars upfront.
This, of course, almost never pans out, and the Federal Trade Commission has shut down several such companies recently, The latest is National Card Monitor, LLC, which charged consumers up to $599 upfront to supposedly secure a new low-rate credit card on their behalf.
According to the FTC's complaint, the defendants sought out consumers seeking relief from high credit card interest rates. In the scheme, telemarketers working for National cold-called consumers and told them the company could reduce their credit card interest rates to as low as zero percent by obtaining new lower-rate cards on their behalf, onto which they could transfer existing balances.
Consumers who accepted the offer were required to pay an advance fee, typically ranging from $499 to $599. National also claimed it had a 100 percent money-back guarantee, and assured that consumers that if they did not get the promised cards they would receive a full refund.
After paying the fee, however, most consumers found out that National failed to deliver on its promise to secure a new credit card on their behalf, and that getting a "guaranteed" refund of their payment was very difficult, the FTC alleged.
The agency's complaint also alleges National called consumers whose numbers are on the Do Not Call Registry and never paid the fees required to access registered phone numbers in the area codes its telemarketers call.
---