---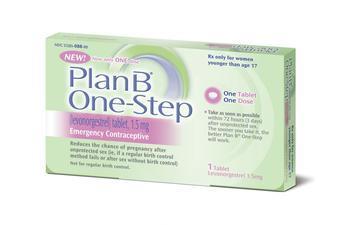 An application approved by the U.S. Food and Drug Administration (FDA) would make Plan B One-Step (active ingredient levonorgestrel) for use without a prescription by women 15 years of age and older.
The application was submitted by Teva Women's Health, Inc. after FDA rejected the company's 2011 bid to make Plan B One-Step available over-the-counter for all females of reproductive age.
The product will now be labeled "not for sale to those under 15 years of age *proof of age required, not for sale where age cannot be verified." The package will contain a product code prompting a cashier to request and verify the customer's age. A customer who cannot provide age verification will not be able to purchase the product. In addition, Teva has arranged to have a security tag placed on all product cartons to prevent theft.
The product will be available in retail outlets with an onsite pharmacy, where it generally will be available in the family planning or female health aisles, and will be available for sale during the retailer's normal operating hours whether the pharmacy is open or closed.
'Emergency contraceptive'
Plan B One-Step is described as an emergency contraceptive intended to reduce the possibility of pregnancy following unprotected sexual intercourse -- if another form of birth control (e.g., condom) was not used or failed. Plan B One-Step is a single-dose pill (1.5 mg tablet) that is most effective in decreasing the possibility of unwanted pregnancy if taken immediately or within 3 days after unprotected sexual intercourse.
Plan B One-Step will not stop a pregnancy when a woman is already pregnant, according to FDA, and there is no medical evidence that the product will harm a developing fetus.
"Research has shown that access to emergency contraceptive products has the potential to further decrease the rate of unintended pregnancies in the United States," said FDA Commissioner Margaret A. Hamburg, M.D. "The data reviewed by the agency demonstrated that women 15 years of age and older were able to understand how Plan B One-Step works, how to use it properly, and that it does not prevent the transmission of a sexually transmitted disease."
'Horrific' decision
Georgia Right to Life (GRL) thinks the decision is misguided.
"Adults are denied unlimited access to certain over-the-counter cold remedies," said President GRL Dan Becker. "Now we're going to allow children under the age of 17 to purchase a hormone that might kill a pre-born baby and/or cause serious damage such as blood clots, high blood pressure or stroke to the child."
Even more shocking, he said, is the fact that school nurses can't even give students an aspirin without parental consent. "Allowing girls under 17 accesses to this pill is horrific; it demonstrates a total disregard for innocent life and all parents," he concluded.
Use study cited
Teva says a use study shows that women age 15 and older understood that the product was not for routine use and would not protect them against sexually-transmitted diseases, establishing that Plan B One-Step could be used properly within this age group without the intervention of a health care provider.
The company has indicated that it plans to educate consumers, pharmacy staff and health care professionals about the product's new status. It has also indicated a willingness to conduct an audit of the age verification practices after the product is approved to ensure that the age limitation is being followed.
---