---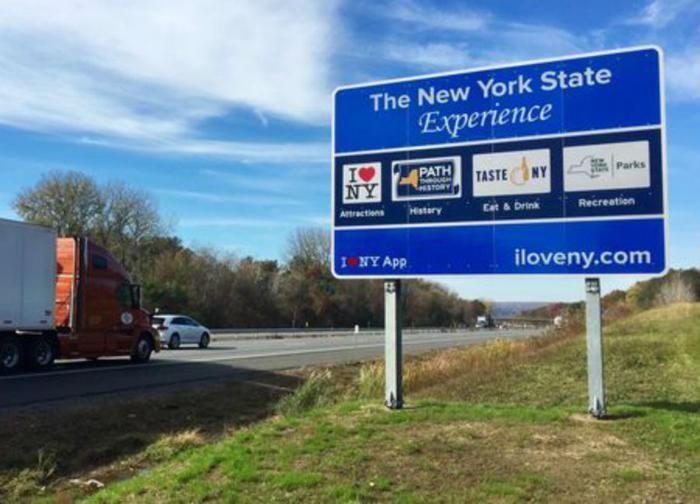 Drivers who frequently find themselves on New York highways are all too familiar with the state's large blue signs. Each one details the various tourist attractions in the area, as well as the famous "I Love N.Y." logo.
While some businesses and tourist towns might like them, the New York Times reports that the federal government does not. Officials say the signs are illegal because they're crammed with too much information and provide too much distraction for drivers.
While the state has shrugged off the feds for five years and put up hundreds of signs, the federal Department of Transportation (DOT) says that things are now coming to a head. It has threatened to punish the state if it doesn't come into compliance soon.
"We have been clear with the New York State Department of Transportation that its tourism-related signs are out of compliance. . . If it becomes clear that is not going to happen, we will make a determination about the penalty. It could be a range of things, from withholding federal approval for projects to withholding highway funding. We hope it does not come to that," said a federal DOT spokesperson.
"Minor disagreement"
While the feds are adamant about getting New York to acquiesce to its demands, state regulators feel that they've done nothing wrong when it comes to the signs.
"This issue has been discussed for years and involve issues like interpretation of rules. . . This isn't high crime, but minor disagreements that we look forward to meeting with the feds in order to resolve. The 'I Love N.Y.' tourism program is highly successful and a big economic driver," said state DOT spokesman Gary Holmes.
Officials say the economic impact has especially benefitted areas of upstate New York, citing that tourism generated $102 billion in 2015. However, some areas have come out against the signs, saying they ruin the small community feeling.
"They were really so out of character with the small communities and two-lane highways that they actually worked against the reason why people come to the East End to begin with," said New York assemblyman Fred W. Thiele Jr., who resides over Montauk – an area at the far end of Long Island.
"We've spent literally a billion dollars protecting small villages and scenic vistas and all of that, and putting up eight giant billboards wasn't really promoting those very scenic features," he said
Promoting economic growth
Still, for other parts of the state, the effect of the big blue signs has been a boon for the local economy. In the Catskill Mountains of upstate New York, tourism is a $1.2 billion industry that generates over 17,000 jobs, according to a recent report.
The industry also generated $3.5 billion in state taxes and $4.5 billion in local taxes last year. In his State of the State address in 2014, Governor Andrew Cuomo addressed the sign program and how it benefits all areas of New York.
"The goal is to get people who are on the roads off the roads and into communities and fostering and promoting the economy of the State of New York," he said. 
Thanks
Keep an eye on your inbox, the lastest consumer news is on it's way!
Unsubscribe easily whenever you want
---