---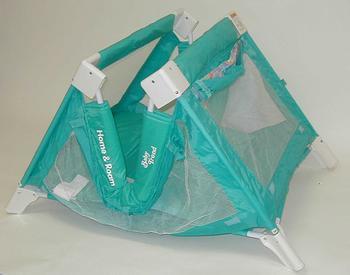 The U.S. Consumer Product Safety Commission has issued new construction and testing standards for baby cribs with play yards, hoping to prevent serious injuries and fatalities caused by assembly errors.
The new rules grow out of an incident in which an infant died when her mattress tilted, causing her to roll into a corner of the crib and suffocate.
The agency said the crib's assembler did not notice that vital supporting rods were missing and that the product might partially collapse without them.
"End supported rods, which attached two of the bassinet accessory's four sides to the play yard rails, were omitted during assembly. The other two sides were attached with plastic clips. After the infant was left to sleep, one of the plastic clips that attached the bassinet accessory to the play yard detached," the CPSC said in publishing the new rules in the Federal Register.
"Because the support rods were not in place to secure the bassinet accessory, the bassinet sleep surface tilted, and the infant slid into the corner of the tilted bassinet accessory and suffocated," the CPSC said.
The new standards require baby cribs and play yards to be permanently attached to one another, or that the bassinet accessory pass a battery of "catastrophic failure" tests meant to make misassembly obvious.
The new rule becomes effective Feb. 29, 2014 and will apply to all play yards manufactured in the U.S. and to all imported play yards.
---