---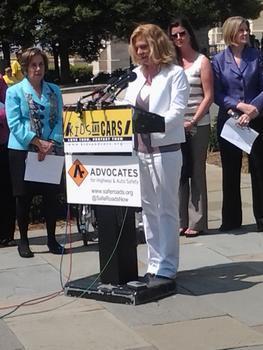 What's a human life worth? That's the question that is now holding up adoption of a rule that would require backup cameras on new cars and trucks sold in the U.S.
Car manufacturers have been complaining that the devices are too expensive. Now an analysis of the rule's cost pegs it at $2.7 billion, which works out to about $18 million per life saved, according to the U.S. Transportation Department.
This is the fourth time the feds have delayed implementing the rule. Transportation Secretary Ray LaHood says more analysis of the cost is needed.
Advocates miffed
The latest delay is not likely to be welcomed by child safety advocates, who held a rally in April urging the Obama Administration to take its foot off the brake and implement the rule.
"If there was a camera on my car [my daughter] wouldn't have died," said Ellen Adams, one of the speakers at the rally. On September 9, 2003, Adams' husband accidentally backed over their one-year-old daughter Ashleigh when she wandered behind his car as he backed out of the family driveway.
"I don't want anyone else to go through what we went through and the numbers are rising. There are 50 a week injured and two die a week," she said.
Katherine McFate, president and CEO of the Center for Effective Government, said, "Congress passed this law to ensure children would not be needlessly killed. Five years after Congress ordered the Transportation Department to issue the rule, the administration is still stalling and American families are paying the price for this delay."
Robert Weissman, president of Public Citizen, said, "The administration is making a mockery of the will of Congress. The Transportation Department sent its draft final rule to the White House more than a year and a half ago, and then it just disappeared.
"The so-called most transparent administration in history has held this rule in an obscure White House office for a year and a half, where the public can't see what's going on. Today's announcement means that more children will be needlessly killed as we wait for the administration to finally comply with Congressional will," Weissman said.
Automakers object
Automakers say it's not necessary to require the cameras on all cars, only on bigger ones. They say consumers should decide how to spend their money.
The rule is part of a 2008 auto-safety bill signed into law by President George W. Bush, the Cameron Gulbransen Kids Transportation Safety Act. It is named after a New York boy who died after his father accidentally backed over him.
The question LaHood's department is now debating is whether consumers who opt for the cameras should get a tax break or other incentive.
It is estimated that 292 people die each year in backover accidents. Half of the accidents could be prevented by requiring the cameras in every vehicle, safety regulators say.
Bottleneck
The backup camera rule is one of dozens that are "stuck" in various stages of the review process at the Obama White House
The Department of Transportation sent a draft final "rear visibility" rule to the White House's Office of Information and Regulatory Affairs on November 16, 2011, and it has remained under OIRA review since, according to OIRA's website.
President Obama reaffirmed President Clinton's Executive Order 12,866, which limits OIRA review to 90 days, with a single 30-day extension possible, Weisman noted.
Presently, the White House is reviewing dozens of draft or final rules from federal agencies for more than the allowed 120 days.
The rear visibility rule was examined in a recent report by the Coalition for Sensible Safeguards (CSS) on eight stalled rules, Down the Regulatory Rabbit Hole: How Corporate Influence, Judicial Review and a Lack of Transparency Delay Crucial Rules and Harm the Public. The report is available here.
---