---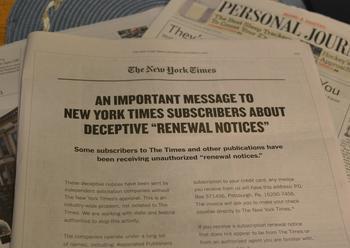 The Federal Trade Commission says it has caught up with the perpetrators of a series of subscription scams that victimized newspaper and magazine readers. 
According to the FTC's complaint, through a complicated web of companies, the defendants send consumers "Notice of Renewal/New Order" mailers for subscriptions to newspapers such as The New York Times, The Wall Street Journal, The Seattle Times and The Denver Post, and for magazines.
The notices claimed that the subscription prices offered were "one of the lowest available rates" and were authorized by the publisher.
In fact, the FTC alleges the defendants did not have publishers' authorization and have been charging up to 40 percent more than the newspapers typically charge. Only in fine print on the back of the fake notices do the defendants state that they "do not necessarily have a direct relationship with the publishers or publications" – and that disclosure refers only to magazine subscriptions, according to the complaint.
Inflated price
Many consumers have complained about the fake notices, paying an inflated price, delays in receiving publications they ordered, or receiving the wrong publications. In some instances, consumers have paid twice for the same subscription.
Consumers who learned the defendants did not represent their regular newspaper and tried to cancel payment or obtain refunds have found it hard to reach customer service. Those who have reached the defendants often received no refund or only a partial refund, or they succeeded only after complaining to the Better Business Bureau or to state or federal law enforcement agencies.
More than 375 newspapers have told the defendants to stop, and many have placed "alerts" on their websites and/or in their publications to warn consumers. The complaint alleges that to circumvent law enforcement actions and publishers' letters telling them to "cease and desist," the defendants have created shell corporations to process and submit orders paying the publishers' normal subscription rate and pocketed the additional amount the defendants received from consumers.
---