---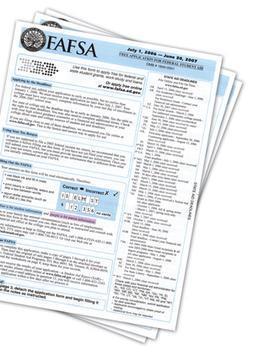 The U.S. Department of Education (DOE) has made a series of changes to the 2014-2015 Free Application for Federal Student Aid (FAFSA) that should allow more families to get financial assistance for college.
The changes are intended to ensure that students are not penalized because of their parents' living arrangements.
For example, the new FAFSA will ask applicants if their parents are "unmarried and both living together."
In addition, the form will no longer use "mother" and "father" to describe a dependent's parents. Instead, "Parent 1 (father/mother/stepparent)" and "Parent 2" (father/mother/stepparent)" will be listed on the application.
U.S. Secretary of Education Arne Duncan says the changes to FAFSA will allow the Department to better calculate how much it's able to give each family.
"All students should be able to apply for federal student aid within a system that incorporates their unique family dynamics," said Duncan.
"These changes will allow us to more precisely calculate federal student aid eligibility based on what a student's whole family is able to contribute and ensure taxpayer dollars are better targeted toward those students who have the most need, as well as provide an inclusive form that reflects the diversity of American families," he said.
Parents had to be married
Previously, the Education Department had only collected the financial information from parents who were married. If parents weren't married, the applicant could only include one parent's financial info. Even if the unmarried parents were living together, a dependent could still only list one parent's finances.
Removing gender-specific terms is also intended to help more families receive their fair share of student aid.
Prior to the application change, the income of same-sex couples who were married under state law couldn't be considered and had no influence on how much assistance dependents could get.
Although same-sex marriages are recognized by some states, they are not recognized federally under the Defense of Marriage Act, which may have kept a lot of potential students from receiving financial help.
DOE said it wanted to make these changes to focus on the parents' relationship to the child, instead of their relationship to each other. It reflects the philosophy that the type of union a couple has shouldn't affect how much a dependent receives.
Also, DOE thinks the changes will help it determine how much each parent will be able to contribute towards tuition costs, which will heavily effect how much aid will be given.
However, the changes will not alter the rule governing divorced parents.
A dependent of a divorced couple can still report only the income of the parent he or she has been living with for the 12 months before the application was submitted.
Support for the changes
The changes to FAFSA have been drawing support from organizations like the Family Equality Council.
"Students seeking financial aid want to know that the federal government will recognize their families and not treat them differently based on their parents' sexual orientation, gender identity or marital status," said Emily Hecht-McGowan, the group's public policy director. "Federal forms that are inclusive of all families are important tools to help LGBT parents ensure their children receive the legal and financial protections they need and the opportunities in life that they deserve."
Shawn Gaylord, director of Public Policy for the Gay, Lesbian & Straight Education Network (GLSEN) also applauded the changes to the application.
"GLSEN has long worked to ensure that sexual orientation and gender identity are not used to discriminate against students in our nation's K-12 schools, whether that student identifies as LGBT, has LGBT friends, or comes from and LGBT family," said Gaylord in a published interview.
"We're thrilled by the Department of Education's decision to allow students filling out the FASF to accurately describe the makeup of their family, regardless of their sexual orientation or gender identity," he said.
---