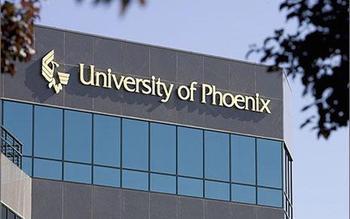 The University of Phoenix is one step closer to being sold and going private. The U.S. Education Department approved the $1.14 billion sale of parent company Apollo Education Group to three private equity firms on Wednesday.
But before that happens, the new owners, including two executives with close ties to the Obama Administration, must agree to the conditions set forth by the department.
The conditions require the company to submit a letter of credit totaling about $386 million to be used as collateral if the company can't pay back funds advanced to it by the federal government. Apollo would also agree not to change or add any new programs until June 30, 2018 and to maintain enrollment levels at or below current levels.
The agreement would apply to both the University of Phoenix and Western International University, both owned by Apollo.
Republicans have been questioning the deal because of the involvement of Marty Nesbitt, a close friend of President Obama who runs the Vistria Group, one of the equity firms. Also, Vistria's co-founder is Tony Miller, who was deputy secretary of education from 2009 to 2013.
The Trump Effect
The apparent close ties to the Obama White House have brought calls for tighter scrutiny of the arrangement from educators as well as political interests.
"It's entirely reasonable to ensure that an ownership group with no prior experience running a college of any sort should abide by certain restrictions," said Ben Miller, senior director for postsecondary education at the Center for American Progress, according to Inside Higher Education. "It's very clear the department is taking a real risk that Tony Miller and others who have no experience in running a college will be able to do so successfully."
Some analysts suggested the requirement for the letter of credit was "onerous" and would push an already troubled institution further into the red. But some also suggested the buyers might go ahead with the deal in hopes that the incoming administration of President-elect Trump -- no stranger to the for-profit education business -- might take a kinder view and loosen the restrictions. 
The University of Phoenix has for years been the largest and best-known for-profit college, with an enrollment nearing 500,000 in 2010. But after a series of lawsuits, scandals, and governmental pressure, enrollment is now down to about 175,000 and the company's future prospects are unclear.
The Obama Administration has cracked the whip on for-profit schools, which critics say charge high tuition, make unrealistic promises of future employment, and deliver degrees and certificates that are often viewed as worthless by prospective employers.
Consumer advocates have for years encouraged students to look to community colleges, which tend to be much less expensive and deliver training that is more widely accepted in the marketplace.