---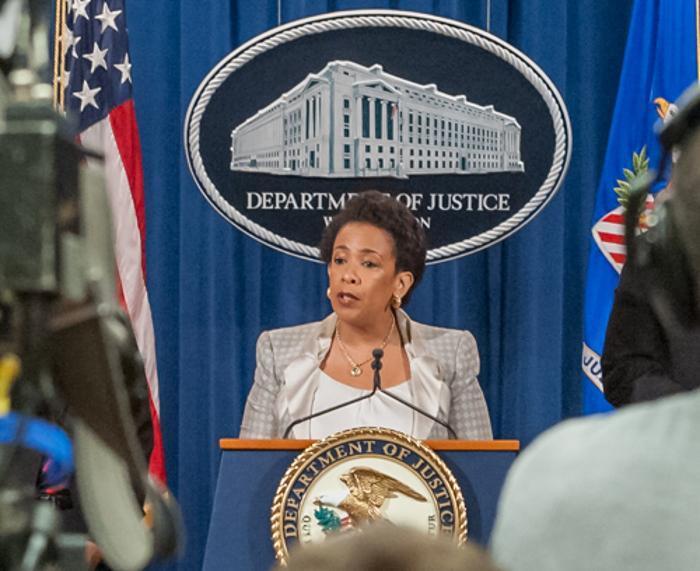 On June 26, the Supreme Court of the United States declared that the Constitution guaranteed a nationwide right to same-sex marriage and today, Attorney General Loretta Lynch announced that federal marriage benefits are being made available to eliglble same-sex couples nationwide.
The action affects federal employees and retirees, veterans, seniors, disabled persons and anyone else who, by virtue of marriage, is eligible for federal benefits.
Previously, spouses of a federal employee, for example, were not eligible for spousal benefits if the couple's same-sex marriage was not recognized by their state.
The Supreme Court ruling takes precedence over any conflicting state or local laws, leading to Lynch's announcement today that the process of extending benefits to same-sex couples was underway.
"Following the Supreme Court's historic decision in Obergefell that every couple has the same right to participate in the institution of marriage, whether the partners are of the same-sex or opposite sexes, I directed Justice Department staff to work with the agencies to ensure that the ruling be given full effect across the federal government," Lynch said at a news conference in Washington this morning.
Quick work
"Thanks to their leadership and the quick work of the Social Security Administration and the Department of Veterans Affairs, today I am proud to announce that the critical programs for veterans and elderly and disabled Americans, which previously could not give effect to the marriages of couples living in states that did not recognize those marriages, will now provide federal recognition for all marriages nationwide," she said.
Lynch said that federal benefits "will be available equally to married couples in all 50 states, the District of Columbia and the U.S. Territories."
"The department will continue to work across the administration to fulfill our commitment to equal treatment for all Americans, including equal access to the benefits of marriage that the Obergefell decision guarantees," she said.
Despite the Supreme Court decision in Overgefell v. Hodges, some localities have refused to grant same-sex marriage licenses in recent weeks. Late last month, Texas AG Ken Paxton told county clerks that they could deny marriage licenses based on religious beliefs. This led to an ethics complaint being filed against him.
The extension of federal benefits is not affected by those disputes.
---