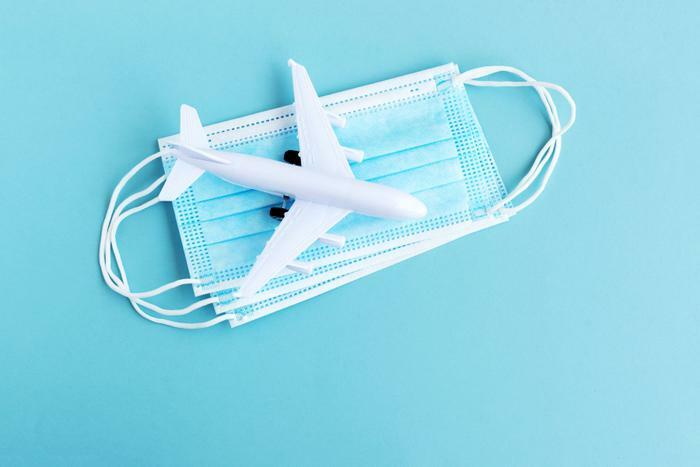 Say farewell to the mask mandate on airlines. After weeks of airlines going to the White House to get some relief and legislation introduced to end the mask requirement, a federal judge in Florida struck down the Biden administration's mask mandate for airplanes and other forms of public transportation like trains and busses. 
In her 59-page ruling, U.S. District Judge Kathryn Kimball Mizelle said that while it's indisputable that the public has a "strong interest" in curtailing the spread of COVID-19, the mask mandate exceeded the Centers for Disease Control and Prevention (CDC)'s authority.
President Biden hasn't officially responded on whether he'll try to appeal the judge's decision, but White House spokesperson Jen Psaki said the move was a "disappointing decision." Psaki repeated the CDC's mantra that people should wear a mask in public transit.
"We would say to anyone sitting out there, we would recommend you wear masks on the airplane," she said.
As well-intentioned as the mask mandate was, it also led to an avalanche of incidents involving unruly passengers who refused to comply with it. Airline crews reported almost 6,000 unruly passenger incidents to the FAA in 2021, with 4,290 of them involving masks. 
Airlines are establishing new guidelines
Major U.S. airlines moved to redefine their requirements within hours of the ruling. In surveying what actions the major domestic airlines are doing in response to the judge's order, this is what ConsumerAffairs found:
Alaska Airlines: The airline now considers face masks optional and has asked for passengers to be considerate.
American Airlines: American says it is no longer enforcing the federal mandate, but it wants travelers to know that face masks may still be required because of local ordinances or when traveling to/from certain international locations. The carrier said in a statement that customers and team members may choose to continue to wear masks at their own discretion.
United Airlines: The airline's position is similar to the response from American Airlines. In an email to ConsumerAffairs, the company said "masks are no longer required at United on domestic flights, select international flights (dependent upon the arrival country's mask requirements) or at U.S. airports," but the flying public can still mask up if they choose to. 
Southwest Airlines: Effective immediately, Southwest said masking up is at the sole discretion of both its employees and customers.
Delta Air Lines: In a memo to employees, Delta said it is proceeding with caution. "Given the unexpected nature of this announcement, please be aware that customers, airline employees and federal agency employees – such as TSA – may be receiving this information at different times," the memo said. "You may experience inconsistent enforcement during the next 24 hours as this news is more broadly communicated — remember to show understanding and patience with others who may not be aware enforcement is no longer required."
Medical expert weighs in
ConsumerAffairs asked infectious disease expert and CEO of Hfit Health Dr. Anthony Harris what the public should do until the dust officially settles on the mask mandate situation.
"Even though the mask mandate is lifted for travel, wear that n95 still. We see that numbers are still going up, especially in the Northeast and we are finding out more about COVID and the effects it has on people long term," Harris told us. "Even if you had mild symptoms, you can still end up with long covid symptoms/issues. We're seeing an increased risk for  type 1 diabetes and heart and lung conditions so wearing that mask can help prevent transmission, especially when traveling."
Specifically for airplane travel, Harris says he is in favor of masking up.
"Yeah, it's crucial that we wear the mask still, and of course it changes when you eat and drink, but keep it on as much as possible. And then keep your distance where possible," he said.