---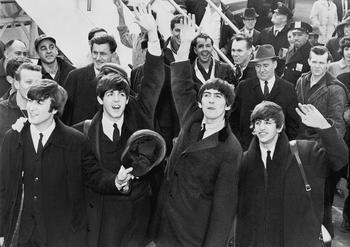 Today, 50 years later, young people probably wonder what all the fuss was about. But on February 9, 1964, the Beatles appeared on the Ed Sullivan Show and entertainment, popular culture, perhaps even the world was never the same.
"Now yesterday and today our theater has been jammed with newspapermen and photographers from all over the nation and these veterans agree with me that the city has never witnessed the excitement stirred by these youngsters from Liverpool," Sullivan said as he introduced John Lennon, Paul McCartney, George Harrison and Ringo Starr to a massive U.S. audience.
Polished image
But America was a bit late to Beatlemania, which had been in full bloom for months in the group's native England. After playing small clubs in and around Liverpool, the group hired Brian Epstein as its manager. Epstein quickly and cleverly gave the Beatles a polished, professional image. Their music did the rest.
Teenagers, young women especially, screamed their approval at appearances and mobbed the four musicians if they happened to see them in public. Sullivan is said to have been at Heathrow Airport in London in the fall of 1963, where he witnessed throngs of screaming girls as the Beatles disembarked from a plane.
There is an alternate version of how the group came to Sullivan's attention. The CBS Evening News with Walter Cronkite aired a lengthy feature story about Beatlemania in late 1963, which can be seen below.
Overnight sensation
Following the Ed Sullivan appearance the Beatles, almost overnight, became the most popular pop music group in America. Capital Records released one Beatles hit after another.
"I Want To Hold Your Hand" shot to number one on the Billboard Hot 100 immediately. By the time the group quit performing in 1970 it had held the number one spot on that chart for a total of 59 weeks while topping the LP charts for 116 weeks.
Perhaps more significantly, something about the Beatles captured the imagination of young people, not just in the U.S. but around the world. The group seemed to possess an authenticity that helped launch a social revolution. Some commentators mark the start of the decade of the 1960s on that cold Sunday night in February 1964.
Huge consumer product
Before they were finished as a group the Beatles had become a huge consumer product as well. In addition to their records there were books, movies and cartoon shows and their likeness appeared on hundreds of products, including lunchboxes and bed sheets.
Today these products are collectors' items. On eBay, a Beatles lunchbox has a price tag of $349. A set of Beatles bobble-head dolls has a "buy it now" price of $500.
Debra Hess Norris, a University of Delaware professor and expert on photographic preservation, says she still has a few treasured artifacts from her days as a Beatles fan which she carefully preserves. For those buying aging memorabilia, she urges careful treatment.
"Protect these materials from high and fluctuating temperatures and humidity," she said. "Do not store memorabilia in attics or basements. House them in a stable, low-humidity environment, such as an interior closet."
Lasting legacy
After the Beatles broke up the four individual members continued solo musical careers. Today only two members of the group survive and one, Paul McCartney, has been knighted by the Queen of England.
Every few years their music is remastered and released, not just for nostalgic former teenagers with gray hair but also a new generation of fans, who find something to relate to in their music.
---