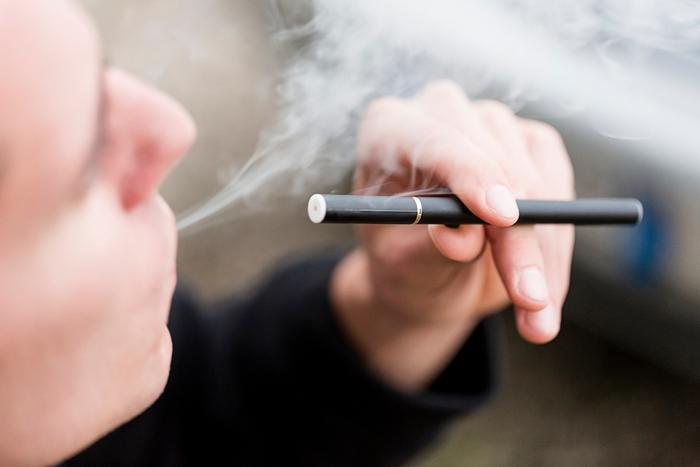 The Food and Drug Administration (FDA) is stepping up its warnings to consumers about using e-cigarettes to "vape" THC products derived from cannabis.
The FDA is partnering with the Centers for Disease Control and Prevention (CDC) to investigate a growing number of lung illnesses -- including deaths -- that appear to be linked to vaping certain products. 
"We're strengthening our message to the public in an updated consumer alert stating that they should not use vaping products containing tetrahydrocannabinol (THC), the primary psychoactive component of the cannabis plant," said Acting FDA Commissioner Ned Sharpless. 
"Additionally, consumers who choose to use any vaping products should not modify or add any substances such as THC or other oils to products purchased in stores and should not purchase any vaping products, including those containing THC, off the street or from other illicit channels."
Last week, health officials in Virginia and New Jersey reported additional lung illness deaths that appear to be related to vaping. The deaths are part of hundreds of illnesses that have sent other consumers to the hospital.
E-cigarettes a common factor
The CDC said it knows for a fact that all patients used e-cigarettes or vaping devices prior to becoming ill; however, the exact cause of the illnesses is still under investigation.
"The specific chemical exposure(s) causing lung injuries associated with e-cigarette product use, or vaping, remains unknown at this time," the CDC said in a statement late last week. "No single product or substance has been linked to all lung injury cases." 
Sharpless said the lung ailments are at the center of what he called a complex, ongoing, and evolving investigation. The FDA is conducting its own analyses while also reviewing published literature of third-party analyses of samples and data.
"At this time, the FDA does not have enough data to identify the cause, or causes, of the lung injuries in these cases," Sharpless said. "Additionally, while no one compound or ingredient has emerged as a singular culprit, we do know that THC is present in most of the samples being tested."
Stop now
The amount of uncertainty linked to these illnesses is largely why the health agency has asked consumers to immediately stop using vaping products that contain THC or that have had any substances added to them, including those purchased from retail establishments. 
"Simply put, inhaling harmful contaminants in the lungs could put a patient's health at risk and should be avoided," Sharpless said. 
Last month, the FDA said it suspected a chemical present in many varieties of marijuana liquid vaping products may be the underlying cause of some of the lung illnesses. Most patients reported vaping THC before becoming ill. At present, no single vaping product or ingredient has been found to have been involved in all of the cases. 
"For those who choose to continue the use of vaping products, particularly those containing THC, we urge you to monitor for symptoms and promptly seek medical attention if you have concerns about your health," Sharpless said.