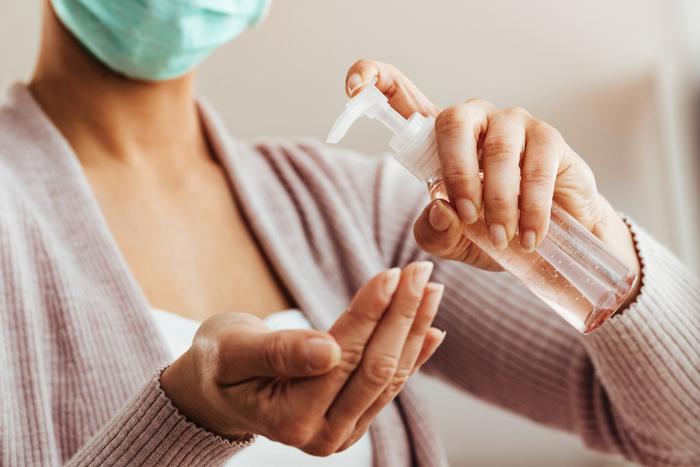 Looks like COVID-conscious consumers have another substance found in hand sanitizers to worry about -- 1-propanol. 
The U.S. Food and Drug Administration (FDA) is warning both consumers and health care professionals about hand sanitizers manufactured by Harmonic Nature S de RL de MI in Mexico. Those sanitizer products are labeled to contain ethanol and/or isopropyl alcohol, but laboratory tests have also found levels of 1-propanol. The agency says the chemical is not an approved ingredient for hand sanitizers sold in the U.S. and could be harmful to those who are exposed to it.
"Ingesting 1-propanol can cause central nervous system (CNS) depression, which can result in death," the agency said. "Consumers who have been exposed to hand sanitizer containing 1-propanol and are experiencing symptoms should seek immediate care for treatment of toxic effects of 1-propanol poisoning."
Avoid using contaminated products
The FDA urges consumers to avoid using any hand sanitizer containing 1-propanol and has added the ingredient to its list of unsafe hand sanitizers. The agency cites studies that have indicated that 1-propanol's depression effects on the central nervous system are 2 to 4 times more potent than alcohol (ethanol).
In addition to the negative impact on the nervous system, skin exposure to 1-propanol has shown to result in irritation and, in rare situations, allergic skin reactions have been reported. In ConsumerAffairs' research on the subject, data prepared for the World Health Organization listed incoordination, confusion, dizziness, drowsiness, headache, nausea, weakness, abdominal pain, sore throat, and vomiting as related symptoms.
The FDA notes that adolescents who may drink the liquid accidentally, as well as adults who drink the liquid as an alcohol substitute, are particularly at risk.
Throw away products responsibly
The FDA asks consumers who have products on the list of hand sanitizers with potential methanol or 1-propanol contamination to stop using them and dispose of them promptly, preferably in a hazardous waste container. 
Consumers should not pour these products down the drain or flush them in the toilet. Instead, the agency advises contacting local waste management and recycling centers for instructions on how to dispose of the substance properly.