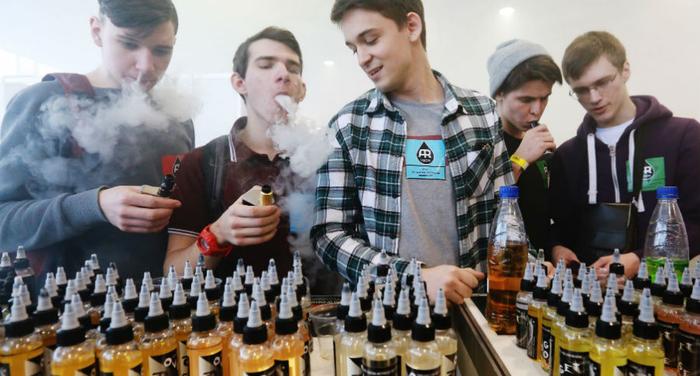 The U.S. Food and Drug Administration (FDA) has had "constructive" meetings with several e-cigarette manufacturers, Commissioner Scott Gottlieb said on Wednesday.
In recent months, the agency has called electronic cigarette use among youth an "epidemic" and has set out to address the dangerous trend. Gottlieb said he's met with five companies over the past few weeks: Altria Group, JUUL Labs, Reynolds American, Fontem Ventures, and Japan Tobacco International USA.
"The companies acknowledged the serious public health consequences associated with youth use of tobacco products," Gottlieb said. "They presented thoughtful proposals, consisting not only of what steps they would take themselves to restrict youth access to and appeal of these products, but also steps that they think the FDA and other policy-makers can take to reverse the trends in youth use of e-cigarettes."
"Some stated explicitly that preventing youth use must be a priority, and that any potential benefits of e-cigarettes for adult smokers cannot justify significant increases in youth use and addiction," he said.
Restricting youth access
E-cigarette use among high school students has risen by 77 percent this year, according to preliminary federal data.
"In order to firmly confront and reverse these trends – and fulfill the central premise of our public health mandate – we may need to take actions that might narrow the off-ramp from smoking for adults in order to close the on-ramp to nicotine addiction to kids," Gottlieb said.
In meetings with manufacturers that collectively represent 97 percent of the market, Gottlieb said the companies "acknowledged the role that flavored e-cigarette products play in appealing to kids, as well as the role that flavored e-cigarettes can also play in helping adult smokers quit"
The companies offered several proposals for mitigating this problem. These include:
That the FDA restrict distribution of certain flavored products to channels with enhanced age verification processes; and

That the agency require certain products that are more appealing to kids -- such as those with fruity flavors -- to come off the market until these products receive premarket authorization from the FDA.
In a statement, Gottlieb said the FDA welcomes any voluntary steps the companies may take to address teen use.
Last month, the FDA ordered five e-cigarette manufacturers to submit plans to curb teen use of their products within 60 days.