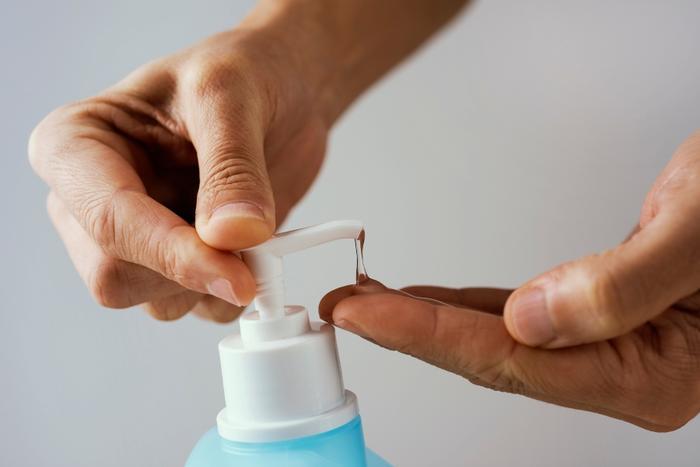 The U.S. Food and Drug Administration (FDA) has issued a strong warning to consumers to avoid using any hand sanitizer manufactured by Eskbiochem SA de CV, based in Mexico. 
The FDA says the products can be toxic because they contain methanol, which it says is not an acceptable ingredient for hand sanitizers. Consumers who use products with that chemical could absorb the chemical through their skin or ingest it accidentally.
Typically, most over-the-counter drugs are not reviewed and/or approved by the FDA. But with the massive amount of hand sanitizers consumers are buying, the agency felt compelled to put the buying public on alert.
What products to look for
The FDA has identified the following products manufactured by Eskbiochem as being potentially toxic. Note that the "NDC" code listed in parentheses is the universal product identifier for human drugs in the United States.
All-Clean Hand Sanitizer (NDC: 74589-002-01)

Esk Biochem Hand Sanitizer (NDC: 74589-007-01)

CleanCare NoGerm Advanced Hand Sanitizer 75% Alcohol (NDC: 74589-008-04)

Lavar 70 Gel Hand Sanitizer (NDC: 74589-006-01)

The Good Gel Antibacterial Gel Hand Sanitizer (NDC: 74589-010-10)

CleanCare NoGerm Advanced Hand Sanitizer 80% Alcohol (NDC: 74589-005-03)

CleanCare NoGerm Advanced Hand Sanitizer 75% Alcohol (NDC: 74589-009-01)

CleanCare NoGerm Advanced Hand Sanitizer 80% Alcohol (NDC: 74589-003-01)

Saniderm Advanced Hand Sanitizer (NDC: 74589-001-01)
Two of Eskbiochem's sanitizers contain large amounts of methanol. When the FDA tested Lavar Gel, it discovered that the product contains 81 percent methanol and no ethyl alcohol; CleanCare No Germ, another product, contains 28 percent methanol.
Risks run from nausea to death
The FDA advises consumers who have been exposed to hand sanitizer containing methanol to seek immediate treatment. Treatment is a crucial component because it has the potential to reserve the toxic effects of methanol poisoning. 
If not treated early, considerable methanol exposure can result in nausea, vomiting, headache, blurred vision, and can go as far as permanent blindness, seizures, coma, permanent damage to the nervous system, or death. 
Ingesting the products can produce an even greater consequence. The FDA has issued a special warning to parents of young children who might ingest these products accidentally, as well as to any adults who drink hand sanitizer as a substitute for alcohol.
Eskbiochem has been notified but has not responded
On June 17, 2020, the FDA contacted Eskbiochem to recommend the company remove its hand sanitizer products from the market due to the risks associated with methanol poisoning. However, by press time, the FDA says the company has not taken action to remove these potentially dangerous products from the market. 
Therefore, the agency recommends that consumers stop using these hand sanitizers and dispose of them immediately in appropriate hazardous waste containers. Do not flush or pour these products down the drain.
"FDA remains vigilant and will continue to take action when quality issues arise with hand sanitizers," the agency said in a news release. "Additionally, the agency is concerned with false and misleading claims for hand sanitizers, for example that they can provide prolonged protection such as 24-hours against viruses including COVID-19, since there is no evidence to support these claims."
In ConsumerAffairs research, some city governments -- for example, Tampa, FL; Salt Lake City, UT; and Louisville, KY -- offer hazardous waste disposal and recycling solutions. To find one, you can do an online search for "hazardous waste collection sites near me." The Environmental Protection Agency (EPA) also has an index of companies and agencies that provide hazardous waste removal.
As methanol is sometimes an unlisted ingredient in supposed alcohol-based hand sanitizer, an extra ounce of prevention that consumers can take would be to contact the FDA to make absolutely sure any off-brand hand sanitizer you're using is safe. The agency's phone number is 1-(888)-463-6332.