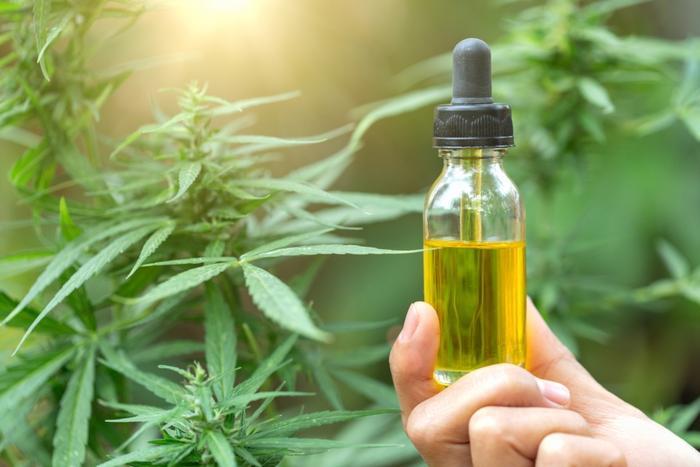 The U.S. Food and Drug Administration (FDA) has sent a warning letter to Curaleaf, a company that markets cannabidiol-based products using "unsubstantiated" health claims. 
Curaleaf is "illegally selling unapproved products containing cannabidiol (CBD) online with unsubstantiated claims that the products treat cancer, Alzheimer's disease, opioid withdrawal, pain and pet anxiety, among other conditions or diseases," the FDA wrote. 
Acting FDA commissioner Dr. Ned Sharpless said the practice of selling products with unsupported health claims is potentially dangerous since it can prevent patients with serious diseases from seeking proper medical treatment. 
"Claims that CBD products can treat serious diseases and conditions can put patients and consumers at risk by leading them to put off important medical care," Sharpless said. "Additionally, there are many unanswered questions about the science, safety, effectiveness and quality of unapproved products containing CBD." 
In a statement of its own, Curaleaf said it's currently having its legal team review the letter and intends to respond within the 15 working day timeframe provided by the FDA.
"Compliance is a top priority for Curaleaf," the company said. "We can reaffirm that nothing in the letter raises any issues concerning the safety of any Curaleaf product. Curaleaf products are all derived from hemp and meet the requirements of the Farm bill." 
Growing consumer interest in CBD
CBD is a component of cannabis that does not contain intoxicating properties, but it is thought to have some health benefits. The FDA began loosening its stance on CBD following the legalization of hemp under the 2018 Farm Bill, but it's still viewed as a drug. 
The agency has said it recognizes the "potential opportunities that cannabis or cannabis-derived compounds could offer and acknowledge the significant interest in these possibilities" and is currently looking into regulatory "pathways" for marketing of products containing CBD.
However, the agency has stressed that it will continue to "closely scrutinize products that could pose risks to consumers" during that process. The FDA currently bans CBD in food or dietary supplements, but it has allowed sales of topical products containing CBD under the condition that they don't make serious health claims. 
Dr. Amy Abernethy, the FDA's principal deputy commissioner of food and drugs, said Tuesday that the agency is aware of the surge in consumer interest in products containing CBD, but it remains committed to monitoring the marketplace and protecting the public. 
"We understand this is an important national issue with public health impact and of interest to American hemp farmers and many other stakeholders," Abernethy said. "The agency has a well-established pathway for drug development and drug approvals, and we remain committed to evaluating the agency's regulatory policies related to other types of CBD products. We plan to report our progress by early this fall as we expedite our work to address the many questions about CBD."