---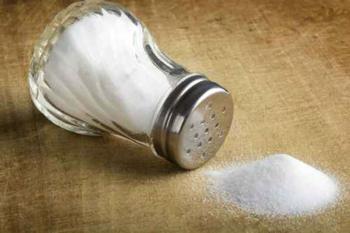 Americans are a salty bunch, consuming nearly 50 percent more sodium each day than experts recommend. As a result, one in three of us have high blood pressure, a major risk factor for heart attacks and strokes, experts say.
The U.S. Food and Drug Administration is trying to make a dent in salt consuption, issuing new voluntary guidelines for food processors, restaurants, and consumers. The goal is to cut average daily sodium intake from its current 3,400 milligrams per day to 2,300 mg/day.
"Many Americans want to reduce sodium in their diets, but that's hard to do when much of it is in everyday products we buy in stores and restaurants," Health and Human Services Secretary Sylvia Burwell said. "Today's announcement is about putting power back in the hands of consumers, so that they can better control how much salt is in the food they eat and improve their health." 
The FDA is especially targeting food manufacturers whose products tend to be salt-laden -- think soups, deli meats, bakery products, snack foods, and pizza -- and national restaurant chains. The agency estimates that less than 10 percent of packaged foods account for more than 80 percent of sales.
Could save billions
The FDA's guidelines could help prevent tens of thousands of premature deaths annually from heart attacks and strokes and tens of billions of dollars in medical costs, according to the Center for Science in the Public Interest, which sued the agency last October, alleging it was not moving quickly enough to regulate salt. 
In addition to issuing its draft guidance, the FDA formally denied CSPI's petition that asked for mandatory, instead of voluntary, standards.
"While this is a voluntary approach as opposed to the mandatory approach we asked for and that the Institute of Medicine endorsed, it provides clear goals by which companies can be held accountable. And, it helps level the playing field for those companies that are already trying to use less salt in their foods," said CSPI president Michael F. Jacobson. 
Included in the draft guidelines is a common system for defining and measuring progress on reducing sodium in the U.S. food supply. The approach is to establish reasonable, voluntary reduction targets for the majority of processed and prepared foods, placing foods in nearly 150 categories from bakery products to soups.
FDA officials said they are confident the targets are achievable and said the pretzel industry, for example, has already met the suggested short-term goals.
---