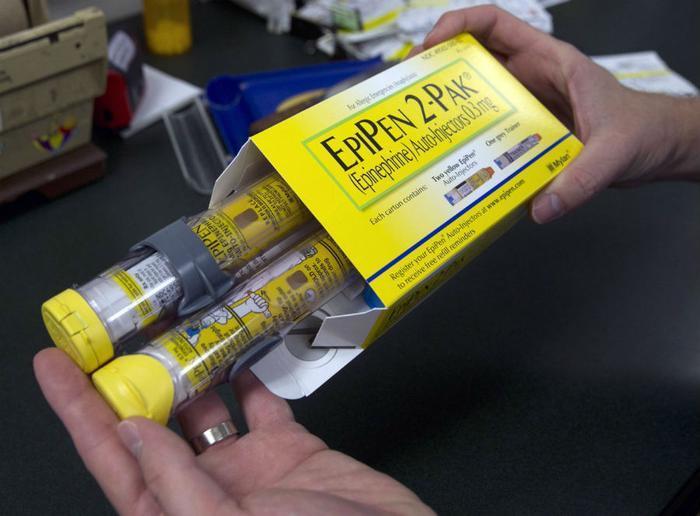 In an effort to combat the ongoing shortage of EpiPens, the Food and Drug Administration (FDA) is extending the expiration dates of certain batches of the epinephrine auto-injectors.
The agency says some EpiPens may be stable for an additional four months beyond their expiration date. Pfizer, which manufacturers the EpiPan for Mylan, said the extensions apply to the 0.3 mg dose of EpiPen and its authorized generic version with expirations dates between April and December 2018. The extension does not apply to EpiPen Jr.
"We are doing everything we can to help mitigate shortages of these products, especially ahead of the back-to-school season," Dr. Janet Woodcock, director of the FDA's Center for Drug Evaluation and Research, said in a statement.
"We're hopeful this action will ensure patients have access to this important medication and provide additional peace-of-mind to parents as the agency works with the manufacturer to increase supply."
The FDA said it made the decision to extend the expirations dates of some EpiPens -- which have a shelf life of around 20 months -- after reviewing stability data provided by Mylan.
Spot shortages
The move comes a week after the agency announced its approval of the first generic competitor to the EpiPen. Teva Pharmaceuticals' generic version of the emergency allergy drug isn't expected to hit the market for a few months.
By extending the expiration dates of certain lots of EpiPens, the FDA hopes to cover shortages that may be causing some parents to panic as the start of a new school year looms.
"While product is currently available, multiple factors, including regional supply disruptions and manufacturer issues, have contributed to EpiPen's limited availability in certain areas in the U.S.," the FDA said.
The FDA's list of the EpiPen lots with newly extended expiration dates can be viewed here.