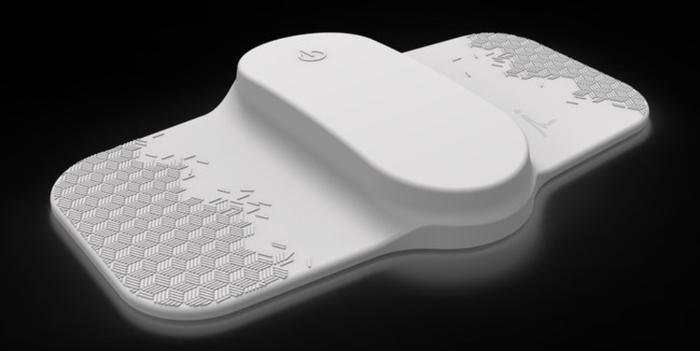 A migraine headache can be a debilitating attack, causing severe throbbing pain or a pulsing sensation, usually on just one side of the head. It's often accompanied by nausea, vomiting, and extreme sensitivity to light and sound.
Unfortunately, there are very few effective treatments for migraines, though the Food and Drug Administration (FDA) has recently approved some to be marketed. The latest to be accepted is a wearable device controlled by a smartphone.
Theranica, a bio-medical technology company, says it has gotten the nod from the FDA for its product, Nerivio Migram, which uses remote electrical neuromodulation to treat acute migraines. Professor Messoud Ashina of the Danish Headache Center, president-elect of the International Headache Society, says the clinical data for the new therapeutic device is impressive.
"It indicates that the device can provide patients with significant relief of pain and other migraine symptoms without the side effects presented by drugs," Ashina said.
Millions of chronic migraine sufferers
More than 38 million Americans suffer from migraine headaches, according to Migraine.com, a website that collects data on the affliction. It says as many as 13 percent of adults in the U.S. may have migraines. While most have acute episodes, studies suggest as many as 3 million people are chronic sufferers.
The FDA's market authorization was granted after a review of the results of a prospective, randomized, double-blind, placebo-controlled, multi-center pivotal study. Two-hundred-fifty-two subjects from 12 clinics used the non-invasive wearable to treat their migraine attacks.
Attaches to upper arm
The device is attached to the upper arm while a smartphone sends electronic pulses to create a conditioned pain modulation (CPM) response. The manufacturer says the Nerivio Migra is intended for acute treatment of migraine with or without aura in adult patients who do not have chronic migraine.
"While the company is preparing to launch the Nerivio Migra in the United States market later this year at an affordable price, we remain committed to continuing our clinical development, expanding the use of remote electrical neuromodulation therapy for additional indications," said Alon Ironi, CEO and co-founder of Theranica. "We have identified at least seven different painful conditions that may be relieved by this non-invasive, drug-free technology after appropriate clinical development."
Physicians at the Mayo Clinic say medications are available that can help prevent some migraines and make them less painful. Patients should discuss symptoms and options with their health care provider. They say the right medications, combined with self-help remedies and lifestyle changes, may provide relief.