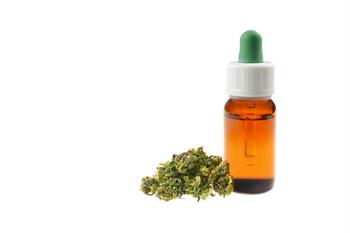 The U.S. Food and Drug Administration (FDA) announced on Monday that it has approved the first marijuana-based prescription medication.
In a statement, the agency said it has approved a drug called Epidiolex, a plant-derived oral solution of cannabidiol (or CBD), "for the treatment of seizures associated with two rare and severe forms of epilepsy, Lennox-Gastaut syndrome and Dravet syndrome, in patients 2 years of age and older."
CBD is a chemical component of marijuana that does not create any "high" in users. The agency's approval of the drug is being called historic, as it marks the first time the FDA has approved such a product for any medicinal use.
An important milestone
FDA Commissioner Dr. Scott Gottlieb called the approval "an important medical advance."
"Because of the adequate and well-controlled clinical studies that supported this approval, prescribers can have confidence in the drug's uniform strength and consistent delivery," Gottlieb said.
Justin Gover, CEO of GW Pharmaceuticals, the UK-based company behind the drug, said the approval signals "validation of the science of cannabinoid medication."
"Today's approval of Epidiolex is a historic milestone, offering patients and their families the first and only FDA-approved CBD medicine to treat two severe, childhood-onset epilepsies," Gover said in a statement.
"These patients deserve and will soon have access to a cannabinoid medicine that has been thoroughly studied in clinical trials, manufactured to assure quality and consistency, and available by prescription under a physician's care."
Reclassifying CBD
Although CBD is currently classified as a Schedule I substance, the FDA found in its review of the medication that its potential for abuse is low. Earlier this year, an expert advisory panel for the FDA voted unanimously to recommend Epidiolex's approval and stated that "CBD has a negligible abuse potential.
The FDA noted in its announcement that it informs and advises the DEA about scheduled substances and is expected to advise the DEA to reclassify CBD in the coming weeks.
"The FDA prepares and transmits, through the U.S. Department of Health and Human Services, a medical and scientific analysis of substances subject to scheduling, like CBD, and provides recommendations to the Drug Enforcement Administration (DEA) regarding controls under the CSA. DEA is required to make a scheduling determination."
Reclassification of CBD could set the stage for the approval of other cannabis-derived medications. It could also ease restrictions on marijuana-related research.