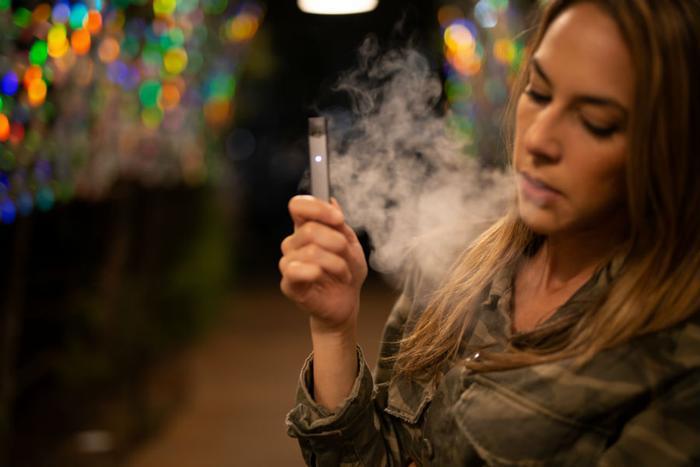 On Monday, the Food and Drug Administration (FDA) charged vaping industry leader Juul with illegally marketing its nicotine pods as "safe." In a letter to the company's CEO Kevin Burns, the FDA demanded that Juul change its marketing practices or risk being hit with a hefty fine or having its products seized. 
The letter was sent two days after the FDA reviewed testimony from a congressional hearing on Juul, which took place in July. The FDA said it found that Juul illegally sold or distributed its products as "modified risk tobacco products without an FDA order in effect that permits such sale or distribution."
The agency stressed that regulatory approval is required before a company can market a specific product as being safer than traditional cigarettes. 
Federal regulators said Juul shirked that law by touting its products as carrying "a lower risk of tobacco-related disease" and being "less harmful than one or more other commercially marketed tobacco products." Juul has never submitted its vaping devices for FDA review. 
"The law is clear that, before marketing tobacco products for reduced risk, companies must demonstrate with scientific evidence that their specific product does in fact pose less risk or is less harmful," acting FDA Commissioner Ned Sharpless said in a statement. "JUUL has ignored the law, and very concerningly, has made some of these statements in school to our nation's youth."
Health concerns raised
The FDA has given Juul 15 days to respond to the letter with a plan for maintaining compliance with the U.S. Federal Food, Drug, and Cosmetic Act. 
Alternatively, Juul may provide "reasoning and provide any and all scientific evidence and data, if any, that support that your statements and representations do not explicitly or implicitly convey that JUUL products pose less risk, are less harmful, present reduced exposure, or are safer than other tobacco products."
A spokesperson for Juul said the company intends to "fully cooperate" with regulators.
Juul's legal troubles come amid growing concern over the health risks of vaping products. On Friday, the Centers for Disease Protection and Control and Prevention (CDC) announced that it's investigating hundreds of lung illness cases and five deaths that could be linked to chemical exposure while vaping.
While the investigation is ongoing, health officials have recommended that young adults, pregnant women, and non-smokers avoid using e-cigarettes and vaping products. Those who use e-cigarette products are urged not to buy them off the street, modify them, or add any substances to the products that are not intended by the manufacturer.