---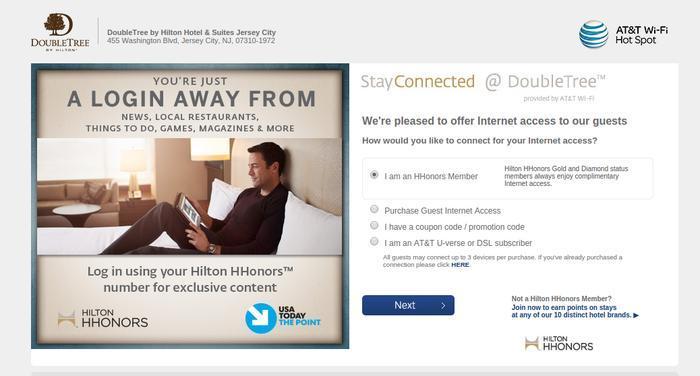 The Federal Communications Commission is serving notice that it's serious about not allowing hotels and convention centers to block personal Wi-Fi hotspots. The commission is planning a $718,000 fine against a contractor at the Baltimore Convention Center and a $25,000 fine against Hilton Worldwide for allegedly obstructing an investigation into whether it blocked guests' Wi-Fi.
The Baltimore case involves M.C. Dean, Inc., an electrical contracting company that allegedly blocked personal mobile hotspots of convention visitors and exhibitors who tried to use their own data plans to connect to the Internet rather than paying M.C. Dean substantial fees.
"Consumers are tired of being taken advantage of by hotels and convention centers that block their personal Wi-Fi connections," said Travis LeBlanc, Chief of the FCC's Enforcement Bureau. "This disturbing practice must come to an end. It is patently unlawful for any company to maliciously block FCC-approved Wi-Fi connections."  
As the exclusive provider of Wi-Fi access at the Baltimore Convention Center, M.C. Dean charges exhibitors and visitors as much as $1,095 per event for Wi-Fi access. The FCC said that after receiving complaints, it sent field agents to the convention center "on multiple occasions and confirmed that Wi-Fi blocking activity was taking place."
M.C. Dean's Wi-Fi blocking activity also appears to have blocked Wi-Fi hotspots located outside of the venue, including passing vehicles, the FCC said. The Commission charged M.C. Dean with violating Section 333 of the Communications Act by maliciously interfering with or causing interference to lawful Wi-Fi hotspots.   
Hilton obstruction
In the Hilton case, the FCC has proposed a $25,000 fine against Hilton Worldwide Holdings, Inc. for its apparent obstruction of an investigation into whether Hilton engaged in the blocking of consumers' Wi-Fi devices.
In today's order, the Bureau directs Hilton to immediately provide essential information and documents about its Wi-Fi management practices and warns the company that it may face a significantly higher fine for any continued obstruction or delay.
"Hotel guests deserve to have their Wi-Fi blocking complaints investigated by the Commission," the FCC's LeBlanc said. "To permit any company to unilaterally redefine the scope of our investigation would undermine the independent search for the truth and the due administration of the law."
The investigation grew out of an August 2014 complaint, in which a consumer alleged that the Hilton in Anaheim, California blocked visitors' Wi-Fi hot spots unless those consumers paid a $500 fee. The Commission has also received Wi-Fi blocking complaints involving other Hilton properties.
Last January, ConsumerAffairs reported on an attempt to use a Wi-Fi hotspot at the Hilton Doubletree in Jersey City, N.J. Our AT&T/Blackberry hotspot worked perfectly throughout the New York City area ... except in our room at the Doubletree. 
In November 2014, the Bureau issued Hilton a letter of inquiry seeking information concerning basic information but said that after nearly one year, Hilton has failed to provide the requested information for the vast majority of its properties. Hilton operates several brands, including Hilton, Conrad, DoubleTree, Embassy Suites, and Waldorf Astoria properties.
The Hilton action is the FCC's fourth major enforcement action regarding Wi-Fi blocking. In October 2014, the FCC fined Marriott International, Inc. and Marriott Hotel Services, Inc. $600,000 for similar Wi-Fi blocking activities at the Gaylord Opryland Hotel and Convention Center in Nashville, Tennessee. In August 2015, the FCC fined Smart City Holdings, LLC $750,000 for similar Wi-Fi blocking at multiple convention centers across the country.  
---