---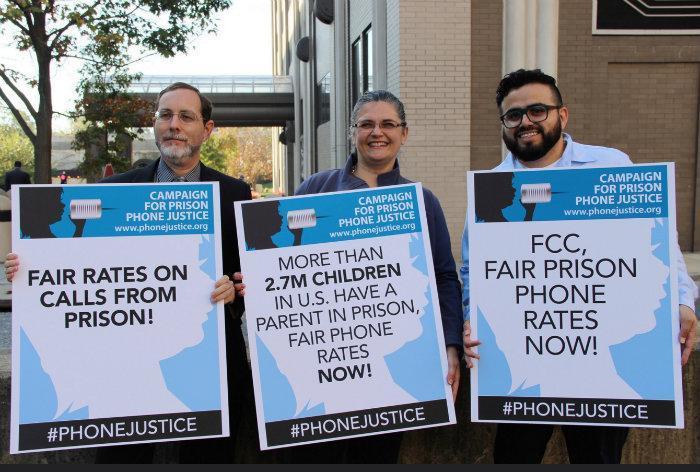 For nearly 20 years, it has been open season on the friends and families of prison inmates. They've paid as much as $14 per minute to call their incarcerated loved ones, who must only use prison telephone systems to make calls.
The outrageous fees have been split between private telecommunications providers and the states and private companies that operate prisons and jails throughout the country. But yesterday, the Federal Communications Commission finally declared an end to the predatory practices, which were authorized by a little-noticed provision in the Telecommunications Act of 1996.
The FCC's action lowers the cap to 11 cents per minute for all local and long distance calls from state and federal prisons, while providing tiered rates for jails to account for the higher costs of serving jails and smaller institutions. 
At the same time, the FCC closed loopholes by barring most add-on fees imposed by inmate calling service providers. They also set strict limits on the few fees that remain. Extra fees and charges can increase the cost of families staying in touch by phone with loved ones who are incarcerated by as much as 40%.
Families in debt
According to a report released last week, one in three families go into debt because of the high cost of maintaining contact with incarcerated family members. 
While contact between inmates and their loved ones has been shown to reduce the rate of recidivism, high inmate calling rates have made that contact unaffordable for many families, who often live in poverty, the FCC said in a prepared statement. 
Today's action builds on reforms begun by the FCC in 2013, when it acted on a petition by Martha Wright, a grandmother from Washington, D.C., for relief from the exorbitant rates she was paying to call her grandson in prison. These reforms set an interim cap of 21 cents per minute on interstate debit and prepaid calls, required by ICS providers to file cost data. In October 2014, the FCC sought comment on the data and proposed to reform all inmate calling rates and fees.
"In passing the most comprehensive reforms to date to the prison phone industry, champions like Commissioner Mignon Clyburn listened to those long considered voiceless—the families of the 2.4 million people incarcerated in the United States," said Malkia A. Cyril, Executive Director at the Center for Media Justice and Co-Founder of the Media Action Grassroots Network. "It's long past time to reform the unreasonable rates predatory companies impose upon on a captive consumer base."
---