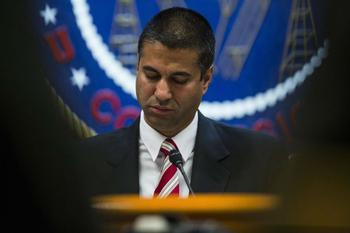 Federal Communications Commission (FCC) Chairman Ajit Pai said it's a "fact" that there was Russian interference in the public comments filed ahead of the net neutrality decision last year. Pai said a "half-million comments" were submitted from Russian email addresses.
Pai's claims, made via a memorandum this week, were issued in response to a lawsuit brought by the New York Times. A few weeks ago, the Times requested access to the IP addresses and server logs of those who submitted comments during the agency's net neutrality docket.
In obtaining the records, the newspaper said it hoped to "shed light to the extent to which Russian nationals and agents of the Russian government have interfered with the agency notice-and-comment process about a topic of extensive public interest."
Withholding server logs
During the time the FCC was seeking public comments ahead of the controversial vote to roll back net neutrality rules, the agency reportedly received more than 23 million comments. In October, a study found that 99.7 percent of unique comments filed on the FCC's website ahead of the vote were in favor of keeping net neutrality protections.
Pai said this week that the FCC chose not to release the records because the information must be kept private in order to help prevent cyber attacks. Releasing the data logs would also violate the privacy interests of Americans who commented on the net neutrality repeal, he said.
The same memorandum also included a statement of a different tone from Jessica Rosenworcel, the Commission's only Democrat, who said, "something here is rotten— and it's time for the FCC to come clean."
Earlier this year, Rosenworcel said in an op-ed for the Washington Post that the agency "logged about half a million comments sent from Russian email addresses. It received nearly 8 million comments from email domains associated with FakeMailGenerator.com with almost identical wording."
The Commission's decision not to release the data logs comes a few months after the agency admitted that it lied about a so-called cyberattack on its comment system ahead of its ultimate repeal of net neutrality rules in December of 2017.
Prior to the admission, the agency had told the media on numerous occasions that the comment system had been targeted by hackers, preventing consumers from voicing their opinion on the vote.
"We look forward to challenging in court the FCC's refusal to provide this information, which the public is entitled to have," a spokesperson for the New York Times told Gizmodo.