---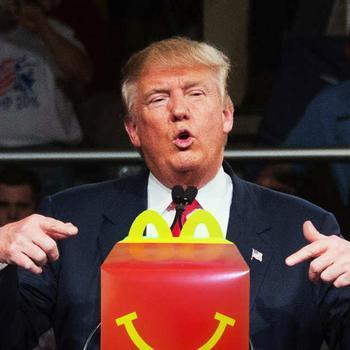 It's generally thought that poor people are the biggest consumers of fast food, but a new study suggests that's not the case. The Ohio State University study found that middle-income consumers are also regular visitors to McDonald's and KFC.
"It's not mostly poor people eating fast food in America," said Jay Zagorsky, co-author of the study and research scientist at OSU's Center for Human Resource Research. "Rich people may have more eating options, but that's not stopping them from going to places like McDonald's or KFC."
Zagorsky's study showed that middle-income Americans were most likely to eat fast food, although the differences from other groups was relatively small. Even the richest people were only slightly less likely to report fast food consumption than others.
The researchers used data from the National Longitudinal Survey of Youth, which has questioned the same group of randomly selected Americans since 1979.
In the study, researchers used data from about 8,000 people who were asked about their fast-food consumption in the 2008, 2010, and 2012 surveys. Participants, who were in their 40s and 50s at the time of the surveys, were asked how many times in the past seven days they had eaten "food from a fast-food restaurant such as McDonald's, Kentucky Fried Chicken, Pizza Hut or Taco Bell."
Results were compared with the participants' answers to questions about their wealth and income. While there were some slight differences in how wealth and income were related to fast-food consumption, Zagorsky said the results were similar.
79 percent
Overall, 79 percent of respondents ate fast food at least once and 23 percent ate three or more meals during any one of the weeks recorded in the study.
A key finding was that people whose income or wealth changed dramatically during the four years of the study -- either going way up or way down -- didn't change their eating habits.
"If you became richer or poorer, it didn't change how much fast food you ate," Zagorsky said.
Lack of time
One hallmark of the heavy users of fast food was a lack of time.
The study found that fast-food eaters tended to have less leisure time because they were more likely to work more hours than non-fast-food eaters.
Zagorsky said he hopes the results of this study can help guide policymakers when they come up with laws regarding how to prevent obesity or guide nutritional choices for Americans.
"If government wants to get involved in regulating nutrition and food choices, it should be based on facts. This study helps reject the myth that poor people eat more fast food than others and may need special protection," he said.
Thanks
Keep an eye on your inbox, the lastest consumer news is on it's way!
Unsubscribe easily whenever you want
---