---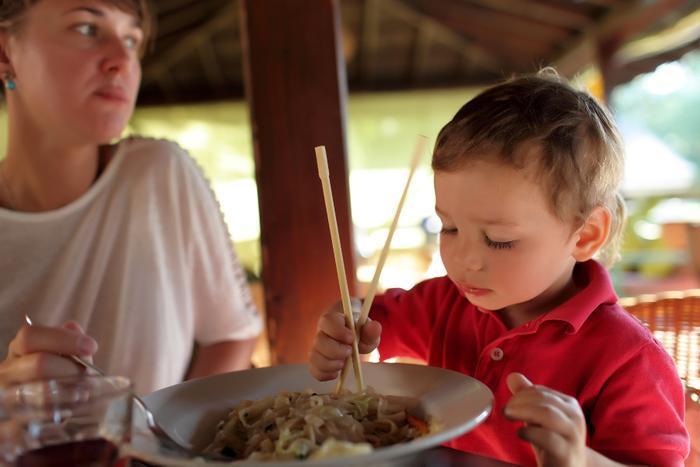 The experts have been touting the significance of it for years. We are talking about the all important family dinner. It's a time to reconnect and talk about the day. It helps develop a sense of who we are as a family unit. Remember those?
Well, there is a new twist and yet another reason to pick up your fork and spoon or maybe put it down for a bit and listen. Having a family dinner especially during adolescence can help fight obesity. If kids are overweight in their teens they have a likelihood of being overweight as an adult.
There was a long-term study known as Project EAT (Eating and Activity among Teens) it examined weight-related variables among adolescents, including how much they ate, how much physical activity they did and their daily behaviors -- all of these influence weight control. The study is scheduled for publication in the Journal of Pediatrics.
Researchers from the University of Minnesota and Columbia University took a look at the data and what they found was that family meals had all the good stuff -- fruits, vegetables whole grains and calcium. They suggested that having those things in their diet can help teens lessen their chance of obesity as they become adults. Also parents eating healthy is a good role model and sets the tone of "eat this, not that."
10 years later
They followed up after 10 years and of the teens who said that they never ate family meals together, 60% were overweight and 29% were obese.
Researchers concluded that just having one or two family meals a week significantly reduced chances of being overweight or obese.
"It is important to identify modifiable factors in the home environment, such as family meals, that can protect against overweight/obesity through the transition to adulthood," said Minnesota researcher Jerica M. Berge.
You have probably heard the term an "emotional eater." Family meals may help fight that as sitting around the dinner table gives kids a chance to talk and deal with some of the issues they may be facing. The interaction and emotional connection becomes a release.
Some research in 2013 by Cornell University could be the second course for this study as it found that turning the TV off at dinner time while having dinner with the family and not turning it back on until everyone was finished was linked to a lower body mass.
"The positive socialization skills that family dinners tend to encourage possibly hold down the urge or need to overeat, a Cornell researcher said.
"The ritual of where one eats and how long one eats seems to be the largest driver."
You might want to warm up the meatloaf and add a salad tonight.
---