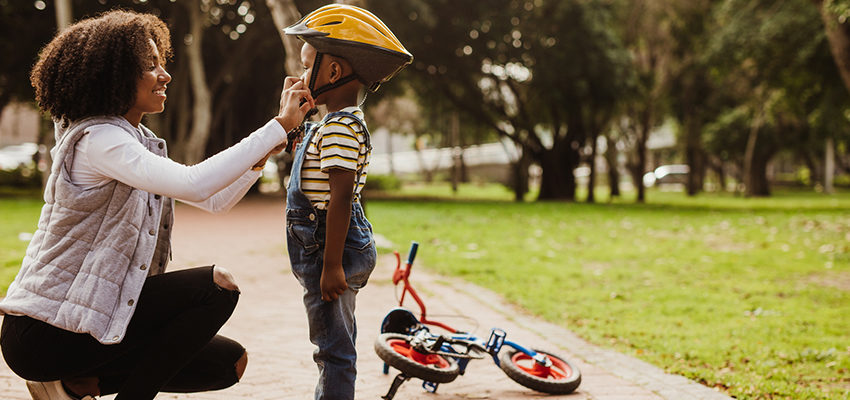 When the summer sun shines and the birds are chirping, one of the best things to do with your family is to take a bike ride together. However, every parent knows that riding your bike can be dangerous if you don't approach safety properly. So, before you decide to get your water bottles out and pick the perfect bike path, check out our list of great safety tips.
Wear a helmet
This is an old rule but a good one — always wear a helmet. Not only should your children be adequately outfitted, but the parents should as well. Make sure your helmet is properly fitted with these steps:
The helmet should be snug (no wiggling or rattling) but comfortable (not too tight).
It should be perpendicular to your eye line and should not slide back.
It should be roughly 1" above your eyebrows to protect the front of your skull.
If you shift it and the helmet moves further than 1" on any side, it needs to be adjusted.
Remember the "ABCs"
Before you ride, make sure to do a maintenance check on all of the bicycles. Commonly referred to as the "ABCs" of maintenance, check the air, brakes and chain.
Air: Just like a car, check the rated pressure for each tire and make sure the tire pressure matches. While you at it, check for damage or wear on each one.
Brakes: Look at the brake components and see if they are in working order. Inspect for any wear on the breaks themselves, as well as damage.
Chain: Your chain should always be lubricated and clear of debris. Then, spin your pedals and listen for grinding metal-on-metal noises.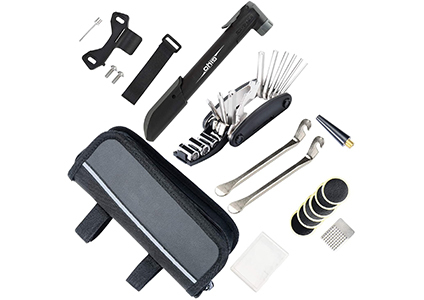 7-piece kit
Portable and lightweight
The rules of the road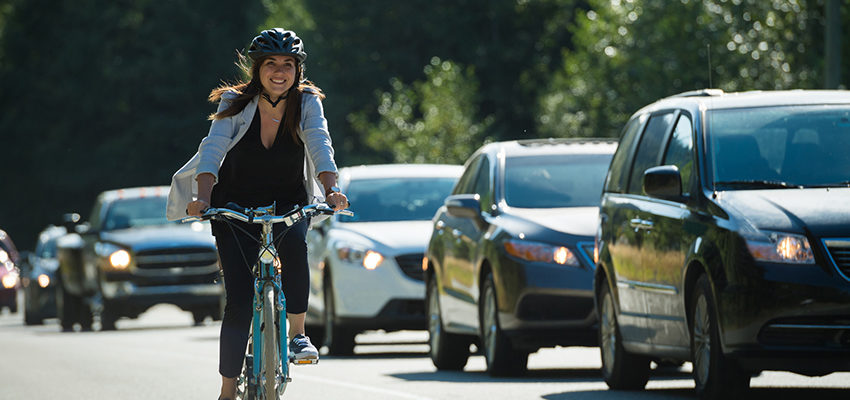 Although a bicycle is considered a "slow-moving vehicle," it is still a vehicle, and you must obey the rules and laws of the road. Make sure to brush up on your knowledge by doing a quick search online, then have a serious talk with your children. Understanding local laws in regards to biking is even more vital when you are sharing space with vehicles and pedestrians.
Be bright
Whether you and your family are riding dawn or dusk, you always want drivers, other riders and pedestrians to be able to see you. Wear bright clothes, take advantage of reflective surfaces (like reflective vests or markings) and make sure to have plenty of lights mounted on your bike and helmets.
Adjust the seating position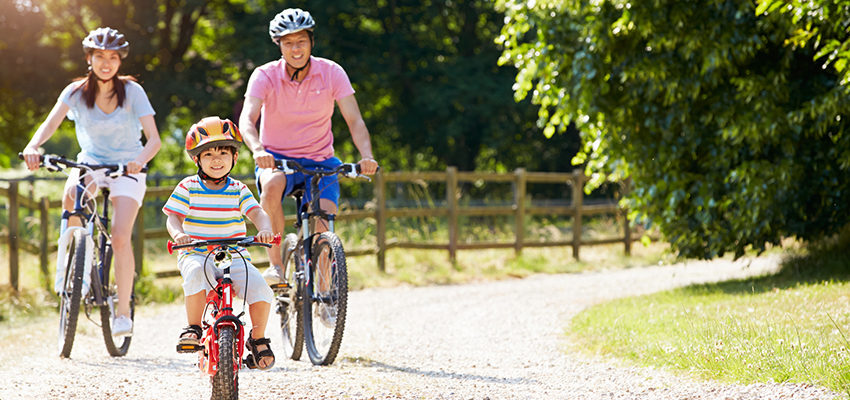 Both adults and children should adjust the height of the seat for a proper sitting position. As with parents, you should position yourself with both feet planted firmly on the ground. The seating should be comfortable, and children should be about 1" to 3" from the top tube.