---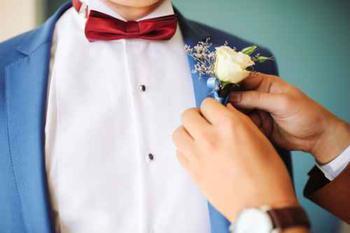 Prom has always been an important rite of passage in a teen's life, but the dance hasn't always been so much of a financial burden. Families are now spending an average of almost a thousand dollars on prom, according to a recent survey by Visa.
Where is all that money being spent? As it turns out, the spending begins long before it comes time to pick out an outfit.
"Promposals"
These days, teens are going all-out when it comes to asking someone to prom. They're turning the once simple (yet nerve wracking) task of asking a lucky guy or gal to prom into an elaborate, proposal-esque experience -- one that accounts for about one-third (around $324) of their overall prom cost.
Popular promposals have included airplane banner flyovers, posing the question on a jumbotron, and using the pepperonis on a pizza to spell out "prom."
Once a date is secured, the outfit selection can begin. And guys and girls alike are sparing no expense in an effort to look their best for the big night.
The price of fashion
For ladies, prom is usually all about the dress. A 2012 survey by Seventeen magazine found that girls planned to spend around $231 for a dress, $100 for shoes and other accessories, and $118 on hair, nails, and makeup.
Looking sharp is equally important to guys, though they're spending a little less on their grooming efforts. According to research from USA Today, guys spend an average of $127 for a tuxedo, $20 on their date's corsage, and $100 on other accessories.
And who's footing the bill? If you guessed mom and dad, you'd be right. The Visa survey finds that parents plan to pay for a majority of the cost (73%), while kids will be expected to cover 27% of the expenses.
Creative attire
Some teens, however, have been slashing prom costs by getting creative. Instead of embarking on the painstaking journey of finding the right outfit, some students are taking matters into their own hands -- using duct tape.
Crafting your way to a prom outfit can help cut costs, and it may even score teens some scholarship money. Prom-bound DIY-ers may be interested in the Duck brand's "Stuck at Prom" Scholarship Contest, which awards more than $50,000 in scholarship dollars each year.
---