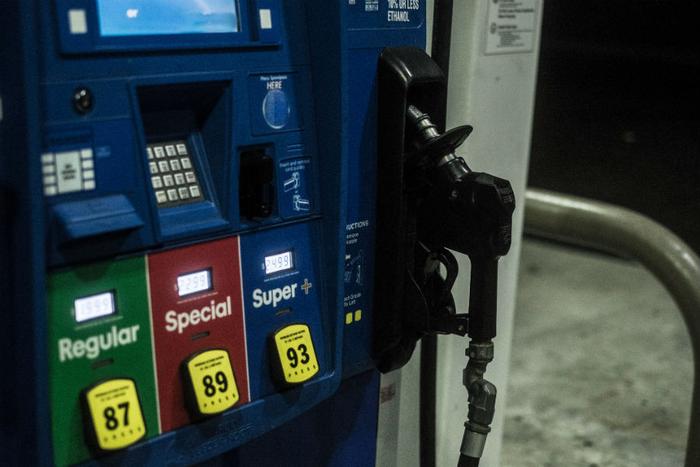 A big drop in oil prices in the latter half of October is making gasoline cheaper for motorists as November gets underway.
The AAA Fuel Gauge Survey shows the national average price of regular gasoline is $2.78 a gallon, down from $2.83 a gallon last week. However, it's still 30 cents a gallon more than a year ago.
The average price of premium gas is $3.35, down four cents a gallon from last Friday. The average price of diesel fuel is $3.28, just a penny cheaper than a week ago.
Prices normally drift lower late in the year, but the recent drop has been aided by a significant drop in the price of oil, as global demand is slowing and U.S. stockpiles are growing.
In its weekly report, the Energy Information Administration reported oil inventories increased last week for the sixth straight week with American suppliers adding 3.2 million barrels to their tanks. It's the highest level of U.S. oil supplies since mid-June.
But in its weekly market update, AAA cautions that supplies could dip as early as next week when new Iranian economic sanctions take effect and Iranian oil will be withheld from the market.
In the last week, prices varied widely state to state. Some states in the West saw a small bit of relief, as the statewide average fell four cents a gallon in California. States in the Southeast saw the biggest price drops as a handful of states saw prices go down five cents or more.
Prices went up in some Great Lakes states, but GasBuddy petroleum analyst Patrick DeHaan advised on Twitter that drivers there should be patient.
"Do not be in a rush to fill up, wait if you can," he wrote. "Looks like average prices could go even lower in the next week or so than they were earlier this week."
The states with the most expensive regular gas
These states currently have the highest prices for regular gas, according to the AAA Fuel Gauge Survey:
Hawaii ($3.90)
California ($3.77)
Washington ($3.52)
Alaska ($3.39)
Oregon ($3.35)
Nevada ($3.28)
Idaho ($3.12)
Utah ($3.02)
Montana ($2.98)
Connecticut ($2.97)
The states with the cheapest regular gas
These states currently have the lowest prices for regular gas, the survey found:
South Carolina ($2.48)
Missouri ($2.49)
Texas ($2.51)
Mississippi ($2.52)
Alabama ($2.52)
Louisiana ($2.52)
Oklahoma ($2.53)
Arkansas ($2.54)
Virginia ($2.55)
Tennessee ($2.57)