---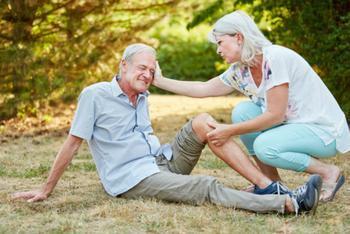 Falling down seems to be part of being a child. They take numerous tumbles as part of daily play, and often appear none the worse for it.
Not so for older adults. The American Trauma Society says falls are the leading cause of both fatal and non-fatal injuries for seniors. Bones are more brittle and balance can often be an issue.
Each year emergency rooms treat more than 2.5 million fall-related injuries, with 734,000 patients requiring a hospital stay and nearly 22,000 resulting in death.
Dr. James Vosswinkel, of Stony Brook University Hospital, says older adults who suffer a fall should always get treatment, even if they think they weren't injured.
"Older adults who suffer a serious fall have much better chances of survival and overall better health outcomes if they are treated at a trauma center where specialized surgeons are available," he said in a statement.
Advice for avoiding falls
While falls are a risk for the older population, Vosswinkel says they aren't inevitable. Here are some ways older adults can prevent them:
Discuss the risk with your doctor and get his or her advice.
Get involved in exercise programs that promote balance and strength.
Ask your doctor and pharmacist to review your medication. Some drugs have side effects that can make falling a bigger risk.
Get your eyes checked every year. Just seeing better might prevent a dangerous fall.
Make sure your home is as fall-proof as possible. Get rid of unnecessary furniture that make a room feel small or cramped.
Sodium deficiency
A proper diet may also help keep seniors on their feet. A 2010 study by Dutch researchers found older adults who had only slightly decreased levels of sodium in their blood - a condition known as hyponatremia – had higher rates of fractures and falls. The subjects in the study with hyponatremia had a 21% increased risk of death during the follow-up period.
An occasional glass of red wine or grape juice might also provide some benefit. A 2012 study found resveratrol, a substance found in the skin of grapes, was associated with fewer falls by older adults.
---