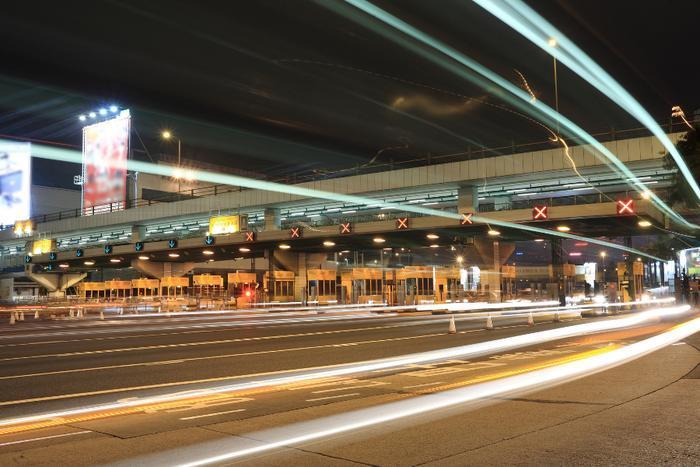 Chances are you know already that between security cameras, license-plate scanners and other forms of cheap and readily available recording technology, your whereabouts are monitored pretty much everywhere you go.
Of course this mass-surveillance technology poses problems for innocent people. In May, California state legislator Jerry Hill demonstrated one such danger by performing a simple experiment with appalling results: he paid a private investigator to track his wife's whereabouts (presumably with her consent).
The PI did so with ease, though he never had to actually "track" her; he merely paid to acquire license-plate-scanner records and learned all the places where she drove and parked — including a particular gym 100 miles from her home.
Around the same time, another Californian in San Leandro made a public-records request and learned that, among other things, the public record includes photos of his young daughters standing in their driveway, plus over 100 photos of the man's license plate recorded in various locations.
Bad as these accurate records of innocent citizens' activities might be, the inaccurate records are even worse: innocent people pulled over and searched at gunpoint, after the license-plate scanner on a police car falsely flagged their vehicle as stolen, or its driver as a wanted felon.
Unsurprisingly, law-enforcement officials tend to like these monitoring technologies, because from their perspective, being able to track the whereabouts of pretty much any person, criminal suspect or not, grants them far greater surveillance powers than they ever had before. Civil libertarians and privacy advocates tend to distrust the scanners for the same reason.
Plate scanners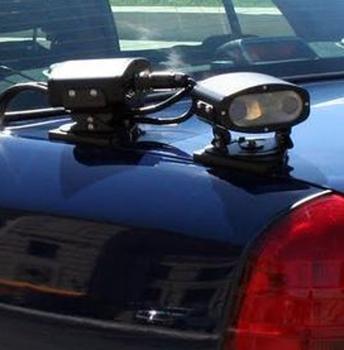 License plate scanners are also useful for generating revenue, whether through honest means or otherwise. On July 8, for example, Courthouse News Service reported that a class-action suit brought before Superior Court in California claims that Xerox, the private contractor responsible for the automatic tolling system on the Golden Gate Bridge, deliberately inflated toll charges on certain types of drivers.
In March 2013, the Golden Gate did away with tollbooths and human toll collectors, replacing it with an automatic billing system. Local drivers could enroll in a "FasTrak" system, putting electronic transponders in their vehicles, and whenever they passed the toll point on the bridge, the toll fees would be automatically deducted from their prepaid FasTrak account.
But drivers who were not enrolled in FasTrak had a different experience. In theory, cameras at the toll points would take pictures of their license plates and send them bills in the mail. The court complaint states that drivers had only 30 days to pay before extremely high late fees were imposed:
 "(V)ehicle owners who fail to pay the $6 toll within 30 days after citation - regardless of whether the vehicle owner actually receives notice of the toll evasion violation - are assessed a $25 penalty. Vehicle owners who fail to pay the toll and $25 penalty are assessed an additional $45 'delinquency' penalty. As a result, vehicle owners may be required to pay $76, or over ten times the amount of the toll, for each Golden Gate Bridge crossing," [lead plaintiff Michael] Saliani states.
Problem is, according to the complaint, many of the drivers charged such high fees never received their toll bills in the first place, because Xerox did not use "best efforts" in sending them out:
For example, the toll invoices are sent to the vehicle's registered address even when the DMV or U.S. Postal Service has updated addresses on file for that owner. When the postal service returns prior notices sent to an invalid address, Xerox continues to mail future invoices to the same invalid address, according to the complaint.
     If the first toll violation notice goes unpaid for more than 30 days, a second notice is issued along with an additional $45 penalty. Vehicle owners then have 21 days from the issuance of the violation, or 15 days from the mailing of the delinquent toll evasion, to contest the fees. If they do not do so, they are deemed liable and in debt for the charges, the complaint states.
What makes such bills particularly bad from a consumer perspective is that, although the tolls and bills are collected by a private, for-profit company, the state government is involved in enforcing them — if Xerox says you owe them money, you can lose your legal right to drive your car if you don't pay:
    "The amount due is referred to the DMV, which places a hold on the vehicle owner's vehicle registration until the outstanding tolls and penalties are paid. Further, defendants may report the 'debt' to collection agencies and a civil judgment may be obtained against the vehicle owner," Saliani says.
Not always EZ
This isn't meant to suggest that such toll problems are limited to drivers crossing the Golden Gate Bridge, nor even to drivers in areas where tolls are handled by Xerox. Our own readers here at ConsumerAffairs have had frequent problems with E-ZPass, an automatic toll-collection (and car-monitoring) system commonplace throughout the Northeast.
In June 2012, our colleague Daryl Nelson reported that "E-ZPass is not so easy," noting that many commuters had complaints similar to those listed in the current class action against Xerox: inflated non-payment fees applied without warning, for example.
Indeed, in 2010, a group of plaintiffs from New Jersey filed a class-action suit against the company, claiming similar problems with toll collection at the Commodore Barry bridge separating New Jersey and Pennsylvania; the case was decided in their favor in November 2012.
Yet there have been no shortage of fresh complaints about E-ZPass since then. Gordon of Fresh Meadows, New York, wrote us in June to complain:
EZ-Pass has been scamming for a really long time. It gives me violation of going through an EZ-Pass lane, even though it doesn't give me one for the way back home. If it did, I would understand. But then, the violation was processed at 4/19/14, and I received the notice 6/19/2014.

So, they're saying that it takes a solid 2 months to get the bill? It says the bill was sent to me on 6/10/14 (that's a lie). I have tried to pay it out of frustration, but in the end, apparently, my violation number was incorrect. So now, I can only wait until the bill stacks up high until they send someone to tow my car away and then pay a huge bill just to get the car back. I'm thinking about suing their ass for this.
And it's even worse for those without E-ZPass transponders, as Shari from New Jersey complained: "I rarely go on the turnpike or the Garden State Parkway. I have received several tickets from E-ZPass and I did not even go through E-ZPass. I have witnesses to that. I go through the pay toll next to E-ZPass and when I get a certain distance away from the tolls then E-ZPass snaps a picture of my car. It is set up to rip people off …."
Even staying out of E-ZPass toll range altogether might not be enough to protect you, if Melissa from Illinois' complaint is any indication. She wrote us on July 8 to say:
I have a story about this company that beats all stories here, respectively. I live in Illinois, have never driven up around or on East Coast. Yet, somehow these guys have gotten hold of my information and are sending me bogus bills? WTH is wrong with this picture? This company is obviously running a big time scam to just rip people off and collect money for their own cause! I hope someone stops them, and soon.
In theory, consumers can challenge incorrect charges by phoning E-Z Pass' customer service number, (even if you are forced to resort to a lawsuit, you still need to try resolving matters with the company first.)
The customer service numbers vary by state: in New Jersey, it's 1-888-AUTO-TOLL (1-888-288-6865).
New York is 1-800-333-TOLL (1-800-333-8655).
For E-ZPass complaints on the Pennsylvania Turnpike, the number is 1-877-736-6727.
Any of these numbers is subject to change without warning; if a number doesn't work for you, check the relevant E-ZPass website for your state, or search for the latest E-ZPass phone number online.
E-ZPass scam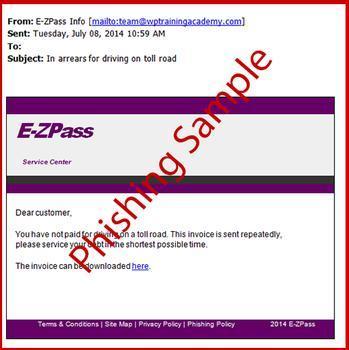 Incidentally: as of July 9, the Port Authority of New York and New Jersey issued a warning about an E-ZPass email scam: thieves are sending out payment demands allegedly from E-ZPass, threatening victims with dire consequences if they don't pay.
This scam would be particularly easy to fall for because, as we've seen, even the real, genuine E-ZPass might be prone to sending out undeserved toll bills: the only difference is, the real E-ZPass guys can make you lose your legal driving privileges if you don't pay, whereas the fraudulent E-ZPass guys cannot.
To protect yourself from the additional scam possibility "People sending bills claiming to be from E-ZPass, but they're actually from random scammers," remember this important anti-scam rule: anytime you get one of these threatening demands for immediate payment, whether [allegedly] from your bank, your local police department or sheriff's office, tax collectors, toll collectors or anyone else, do not call the contact phone number or write the contact email it offers you: do your own independent online search for the contact information.