---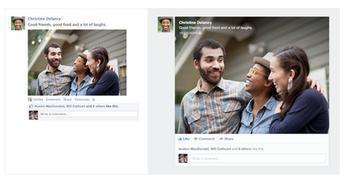 Facebook, where people post pictures of their babies, cats, dogs and cars, is undergoing a facelift that its impresarios hope will make it look a little less like the bulletin board at the local Safeway.
The redo of Facebook's "news feed," as it calls its often odd collection of postings, brings a cleaner, more minimalist look to the site, in the hope that users will stay there longer and consume more advertising and sponsored content.
"We've completely rebuilt each story to be much more vibrant and colorful and highlight the content that your friends are sharing. Photos, news articles, maps and events all look brighter and more beautiful," Facebook gushed in a prepared statement.
Chief Executive Mark Zuckerberg says -- and actually appears to believe -- that the new design will be the foundation for building the "best personalized newspaper" anywhere.
News isn't noise
News, of course, is something a bit more than just random noise but Zuckerberg either doesn't know this or just chooses to ignore it. He proudly proclaimed at a briefing Thursday that the new Facebook would feature bigger pictures, new fonts and logos of publications and companies.
These, of course, are things that newspapers have -- you know, pictures, words, ads. So since he has those, Facebook must be a newspaper, seems to be the logic.
Currently, lots of users complain that they have trouble figuring out why their "news feed" has the content it does, much of it clearly not being news. The answer, of course, is that it's selected by an algorithm that thinks it knows what each person wants to see, based on who that person's friends are, where they're located, what types of things they've posted, and so on.
To try to make it a little easier to comprehend, Facebook will be reverting to something it offered a few years ago -- the option of seeing the latest items in the "news feed," all of them or certain other types of items, rants about music, for example.
Besides the "news feed," Facebook says it's adding these new entries:
- All Friends - a feed that shows you everything your friends are sharing
- Photos - a feed with nothing but photos from your friends and the Pages you like
- Music - a feed with posts about the music you listen to
- Following - a feed with the latest news from the Pages you like and the people you follow.
The new design is being rolled out over the next few weeks. If you just can't wait, you can put yourself on a priority waiting list
---