---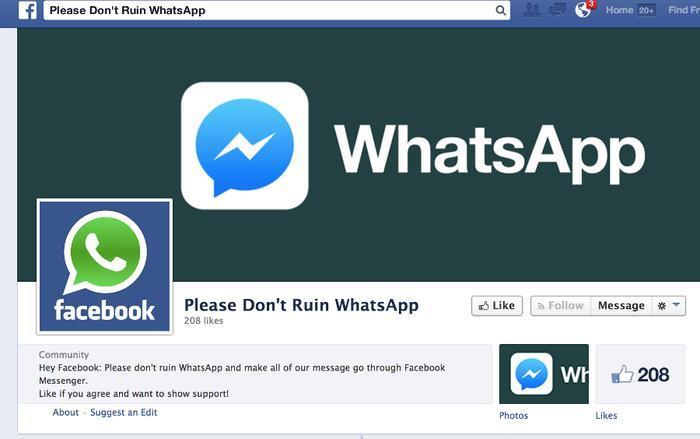 Facebook's own reputation might be damaging it, if reactions to the company's planned $19 billion ($4 billion in cash, plus $15 billion in Facebook shares and stock units) acquisition of the WhatsApp cross-platform messaging service is any indication.
While industry analysts initially agreed the move was a smart one from Facebook's perspective — the Reuters headline "Wall Street sees sense in Facebook's $19 billion WhatsApp purchase" is a typical example — the Wall Street Journalnoted that actual Facebook stockholders are slightly less enthused, as the collective value of Facebook shares fell by $1.5 billion by midday Thursday, the day after the announcement broke.
And current WhatsApp users appear even less enthused. Facebook's announcement of the planned acquisition almost immediately inspired the development of a new Facebook page called "Please Don't Ruin WhatsApp" (which collected over 200 "likes" in only the first 20 hours of its existence), and, as Los Angeles Times reporter Jessica Guynn noted, many WhatsApp users reponded to the news by either canceling their accounts, or threatening to.
The main concern cited by most WhatsApp users was the fear that Facebook would clutter WhatsApp with ads. (WhatsApp is –or at least, was – ad-free; its income stream derives from its annual 99-cent subscrption fees.)
However, Facebook's Mark Zuckerberg said that "WhatsApp will continue to operate independently within Facebook. The product roadmap will remain unchanged."
---