---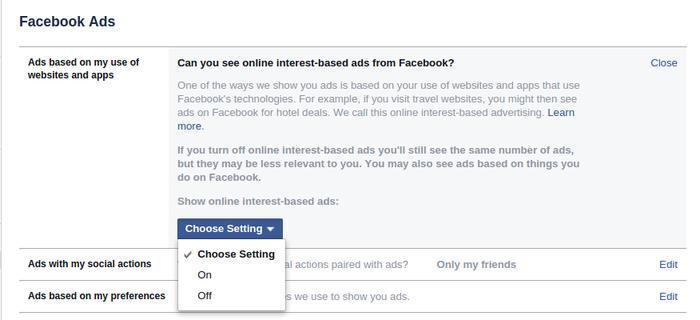 Facebook is adding a feature that makes it easier to opt out of ads that are targeted from data gathered through the "Like" and "Share" buttons that are scattered far and wide on the Internet -- just as it said it would when it started gathering that information.
After all, Facebook already knows an awful lot about the 1.49 billion people who use it each month, and gathering information about what we do when we're not on Facebook is just part of it.
Although Facebook has been collecting the information for quite awhile, it hasn't started using it to target ads but plans to do so next month.
Just to be clear, what we're talking about here are the Like and Share buttons that are on just about every commercial website -- not the ones that are on Facebook itself. If, for example, you're on a site for pet enthusiasts and you click the Like button for a story about dog safety seats, you may see ads for the seats next time you're on Facebook and the other sites where Facebook places ads.
Why would you care? 
Ads are relatively harmless, although the ones that block out the entire screen or trigger autoplay videos can be extremely annoying. But some people just don't like to feel they're being constantly measured, followed, profiled, and generally sized up. Also, they may have certain, shall we say, sensitive interests they'd just as soon not be reminded of.
Facebook's new process is supposed to make it easier to make your preferences known. 
Previously, opting out of behavioral tracking from external activities required clicking on a link that directed you to a page run by the Digital Advertising Alliance, which manages the industry's self-regulatory AdChoices program.
Making the choice on Facebook's site is a little simpler. Here's how it works:
Open the account settings section, using the "More" tab in Facebook's mobile app or the arrow in the top right corner on the desktop site. Then click the "ads" tab, which will display the new opt-out tool.
Facebook said it doesn't plan to make any explicit notification to users other than a company blog post tomorrow, Advertising Age reported.
Remember, opting out of the targeted ads doesn't mean you will see fewer ads, it just means they won't be targeted, which may make them less useful. 
---