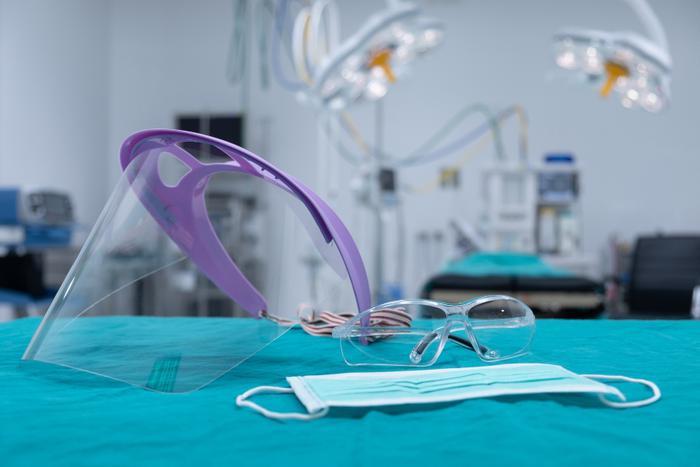 When used as standalone protective gear, a new study finds that plastic face shields aren't as effective as standard face masks against respiratory droplets containing COVID-19. 
In a study involving a simulation, researchers from Florida Atlantic University (FAU) in Boca Raton found that different face coverings yielded different levels of protection against the novel coronavirus. 
The team used laser "sheets" to visualize the trajectory of tiny respiratory droplets containing the virus. A hollow manikin head with a manual pump was used to simulate the impact of a sneeze or cough. 
While face shields successfully thwarted the initial effects of the sneeze, the researchers said they didn't stop fine droplets from skirting around the boundaries of the shield and spreading into the air. 
"The expelled droplets can move around the visor with relative ease and spread out over a large area depending on light ambient disturbances," researcher Manhar Dhanak, a professor at FAU, said in a statement. "Over time, these droplets can disperse over a wide area in both lateral and longitudinal directions, albeit with decreasing droplet concentration." 
Standard face masks recommended
The researchers found that standard face masks were much more effective than face shields -- which have gaps at the bottom and sides -- when it came to keeping droplets at bay. The masks both minimized the expulsion of droplets and limited the spread of those that were released.
"Our observations suggest that to minimize the community spread of COVID-19, it may be preferable to use high quality cloth or surgical masks that are of a plain design, instead of face shields and masks equipped with exhale valves," the team wrote. 
The study findings support recommendations already published by the Centers for Disease Control and Prevention (CDC). Health authorities have advised people not to rely solely on face shields because they don't offer the same level of protection. 
Officials have also stressed the importance of wearing a cloth face mask properly -- namely, by not leaving the nose exposed. 
"One is a mask. The other is a chin guard," New York Governor Anthony Cuomo reiterated recently following protests demanding police reform. "No one told you to wear a chin guard. Wear a mask."