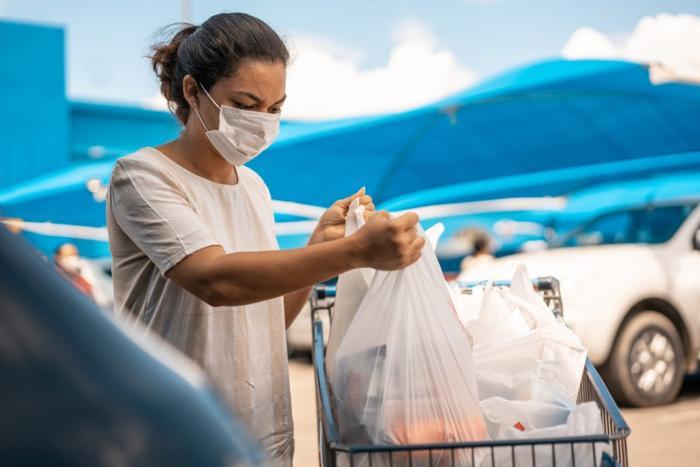 Wearing a face covering may help reduce your risk of getting the coronavirus, but a mask shouldn't be the only line of defense against the virus. Health officials are stressing that the masks aren't a substitute for taking other precautions when out taking care of an essential task.
In a recent statement, California Health and Human Services Secretary Dr. Mark Ghaly said face coverings "could provide some additional protection." However, people should still make sure they are practicing federal guidance on social distancing while they wear a mask, he said. 
"Make sure you're also staying 6 feet away from other people if you have to leave your home to get groceries or prescriptions," Ghaly said.
Wearing a cloth face covering "could provide some additional benefit by acting as a reminder for other people to keep their distance, and it could help reduce the spread of infectious particles from those who could be infected but don't have symptoms," noted Dr. Sonia Angell, director of the California Department of Public Health. 
However, she said they should not be used as a substitute for frequent hand-washing, physical distancing, and trying to stay home as much as possible.
Cloth mask guidance to come
The latest words of caution from public health officials come ahead of an anticipated change to previous guidelines from the Trump administration. 
On Thursday, the president said his administration will likely alter the previous guidelines discouraging the use of face masks among those who don't work in healthcare. The new guidance on face masks -- which is expected to be unveiled in the coming days -- will not be mandatory, according to the president. 
A draft copy of the policy seen by the Washington Post indicates that the CDC plans to encourage the use of cloth masks during the COVID-19 pandemic. 
In the draft version, the agency states that it  "… recommends the community use of cloth masks as an additional public health measure people can take to prevent the spread of virus to those around them."