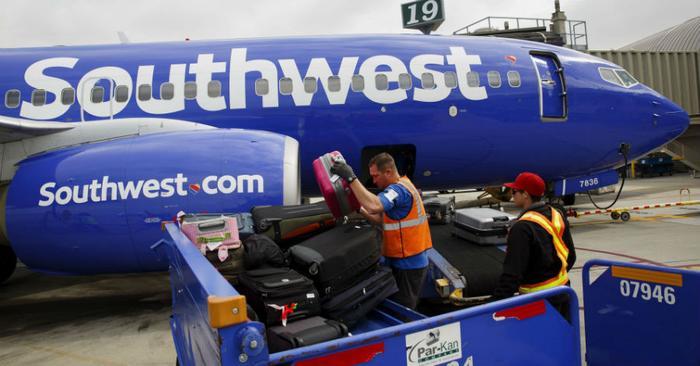 Federal regulators are reportedly investigating Southwest Airlines for the way it calculates the weight of checked bags on suspicion that it is under-reporting its load.
The Wall Street Journal reports the investigation began a year ago and has turned up "systemic and significant" mistakes. It's a critical issue because pilots make calculations based on the weight the plane is carrying.
The investigation by the Federal Aviation Administration (FAA) reportedly found the difference between what the pilots believed to be the weight they were carrying and the actual weight was as much as 1,000 pounds.
According to the aviation website Skybrary, it is important to know the exact weight on board because any excess weight reduces the efficiency of an aircraft and the safety margin available if an emergency condition should arise.
"Overloading effects stability," the site's editors write. "An aircraft that is stable and controllable when loaded normally may have very different flight characteristics when overloaded. Although the distribution of weight has the most direct effect on this, an increase in the aircraft's gross weight may be expected to have an adverse effect on stability, regardless of the location of the CG (center of gravity)."
In a statement to the media, Southwest said it is continuing to track and report its operational data to the FAA "so that we can mitigate and eliminate any operational risks." There have been no Southwest operational incidents attributed to a misloaded aircraft.
State of emergency
February hasn't been especially kind to Southwest. On Friday the airline issued a "state of emergency" after the out-of-service rate for its fleet of Boeing 737s doubled. Around 100 flights had to be canceled because of maintenance issues, complicating weather delays.
"The uptick in maintenance items we experienced over the last few days have resulted in a slight increase" in cancellations, a Southwest Airlines spokesperson told CNBC on Friday.
Southwest said it believes any weight discrepancies reported to the FAA have been resolved, though it is continuing to closely monitor its baggage control system. The FAA said its investigation will remain open until such time that it is satisfied that the airline has resolved the issue.